November 1, 2017 (Wednesday)
By Scott Barancik, Editor
Joc Pederson hit a solo home run last night to help the Los Angeles Dodgers earn a 3-1 win over the Houston Astros in Game 6 of the 2017 World Series and force a decisive seventh game. His post-homer celebration was jubilant:
The homer, his third of the Series, set a record for Jewish ballplayers. Two other players — Astros 3B Alex Bregman in the current Series, and Detroit Tigers 1B Hank Greenberg in 1945 — have hit two round-trippers in a single Series. What's even more impressive about Pederson is that he's hit three HRs in just 16 plate appearances. Bregman will have a chance to tie Pederson's record when they face off tonight in Game 7.
Pederson's performance this Series isn't just notable within the narrow universe of Jewish major leaguers, of which there have been roughly just 170. The 25-year-old's three homers are tied for the most in Dodger history since the team moved to Los Angeles, according to MLB.com: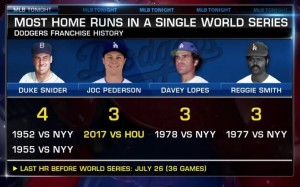 With the possible exception of Houston's George Springer, Pederson is leading all 2017 World Series players in offense. With 3 HRs and 2 doubles in just 16 plate appearances, he is No. 1 overall in slugging percentage (1.143) and OPS (1.580), also known as On Base Plus Slugging.
The Palo Alto native's output is particularly surprising given that he ended the regular season with 31 straight homerless games, a period during which he hit just .123 and spent time in the minors. It wasn't even clear he would make the Dodgers's postseason roster.
Pederson explained his clutch performance after the game:
A recent article in the Jewish Journal delved into the ancestry of Pederson's mother, Shelly Pederson. Born Shelly Cahn, she descends from Jewish ancestors in France, Russia, Germany, Poland and the Netherlands.
Tied 3-3, the 2017 World Series concludes tonight with Game 7 in Los Angeles.
# # #
Get your Jewish Baseball News updates via e-mail