September 26, 2016 (Monday)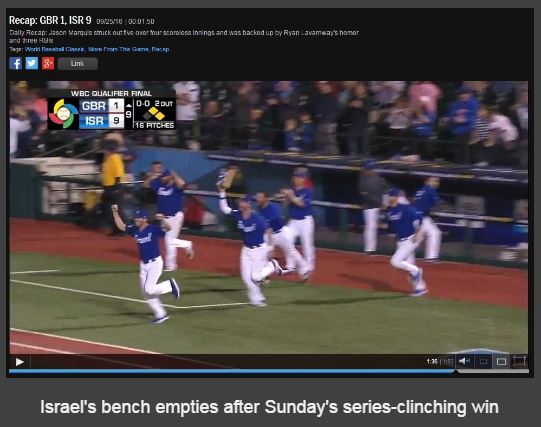 By Scott Barancik, Editor
Israel's first two wins in the World Baseball Classic qualifiers were fairly close affairs, but the team crushed Great Britain 9-1 in the finals Sunday night to sweep the tournament and earn its first-ever trip to the main WBC event, which will take place in March 2017.
Israel dominated equally from the mound and the plate. Starter Jason Marquis and reliever Josh Zeid maintained a perfect game until one out in the 7th inning, and a no-hitter until two outs in the 8th. Zeid, who notched the win, led all qualifier pitchers with 9 strikeouts in the series. Dean Kremer, a 20-year-old Los Angeles Dodgers prospect who this summer became the first Israeli to be drafted by a Major League team, held Great Britain scoreless in the 9th despite yielding 2 hits.
Israel's bats thundered, beginning with two 2-run home runs in the 5th inning. Blake Gailen, a 5'9″ outfielder making his first appearance in the tournament and batting last in the order, crushed the first round-tripper. Next was C Ryan Lavarnway, who later in the game stroked an RBI single.
3B Cody Decker, the San Diego Padres' all-time minor-league home run leader, added a solo shot in the 7th inning. RF Zach Borenstein — who made a diving catch in the 5th to preserve Israel's perfect game — contributed an RBI triple, and DH Charlie Cutler delivered a 2-run double. SS Scotty Burcham led Israel with three hits.
"This is very emotional. Highly emotional," Decker told MLB.com. "More emotional than I'm letting on."
In 2012, Israel lost a heartbreaker to Spain in the 10th inning of the qualifying final. That team was managed by Brad Ausmus, who went on to become manager of the Detroit Tigers.
Israel's win Sunday earned it the 16th and final berth in the 2017 WBC tournament, which will begin in Seoul, South Korea. The team likely will add a few current Major Leaguers and high-level prospects to its roster, given that MLB will still be in off-season mode then.
# # #
Get your Jewish Baseball News updates via e-mail