By Ron Kaplan, contributor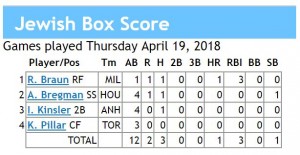 Ryan Braun is nursing a sore calf and so did not start for the Milwaukee Brewers (11-9), but he did deliver a pinch-hit, three-run home run in the sixth, part of the seven runs the Brew Crew put up in the frame (so he didn't have to run very hard). It was the fourth long ball for Braun this year and gave him an even 1,000 runs batted in for his career. Only two other Jewish players — Hank Greenberg and Shawn Green — have reached that milestone.
Ian Kinsler accounted for 25 percent of the LA Angels' hit total with a single in four at-bats as his team (13-6) fell to the visiting Boston Red Sox juggernaut, 8-2.
Kevin Pillar was 0-for-3 as the Toronto Blue Jays (12-6) lost to the host NY Yankees, 4-3. Despite the decision, the Jays are off to their best start in a decade.
Alex Bregman was 1-for-4 with a run scored as the Houston Astros (13-7) beat the host Seattle Mariners, 9-2. He made another one of his strong throws from foul territory in a game which featured this odd triple play:
Neither Danny Valencia nor Richard Bleier appeared in the Baltimore Orioles' 13-4 loss to the host Detroit Tigers. It was the Orioles' sixth loss in a row, dropping them to 5-14, worst in the AL East.
Joc Pederson and the LA Dodgers (8-9) had Thursday off.
Ryan Sherriff remains on the disabled list for the St. Louis Cardinals (10-8), who lost to the host Chicago Cubs, 8-5.
Gabe Kapler's Philadelphia Phillies (11-7) shut out the visiting Pittsburgh Pirates, 7-0.
Ron Kaplan (@RonKaplanNJ) hosts Kaplan's Korner, a blog about Jews and sports. He is the author of three books, including The Jewish Olympics: The History of the Maccabiah Games and Hank Greenberg in 1938: Hatred and Home Runs in the Shadow of War.
# # #
Get your Jewish Baseball News updates via e-mail