By Ron Kaplan, contributor
On a typically quiet Thursday…
Ryan Braun received treatment for his chronically sore thumb and did not participate in the Milwaukee Brews' 11-1 win over the visiting St. Louis Cardinals. In fact, the Brewers (44-30) sent him to Los Angeles for the treatment on Wednesday when their game with the Pittsburgh Pirates was rained out.
Danny Valencia struck out as a pinch-hitter with a runner on base to end the seventh inning as the Baltimore Orioles (21-52) lost to the host Washington Nationals, 4-2. Reliever Richard Bleier was moved to the 60-day disabled list, which confirms he will not be back this season.
Neither Ian Kinsler nor Kevin Pillar managed a hit for the host LA Angels (40-35) and Toronto Blue Jays (34-40), respectively, as the Angels beat the Blue Jays, 8-5. Kinsler was 0-for-5 with three strikeouts while Pillar — who came oh-so-close to robbing a home run — was 0-for-4 with one K.
Alex Bregman and the Houston Astros had the night off, as did Joc Pederson and the LA Dodgers. Gabe Kapler's Philadelphia Phillies took a break as well. Bregman spent his time at a kids camp.
The JTA and LA Jewish Journal each ran stories about The Catcher Was a Spy, the upcoming bio-pic on Moe Berg, a Jewish player who spent 15 years in the Majors. Although I will certainly see it, I just can't connect with Paul Rudd playing the much larger and swarthier catcher.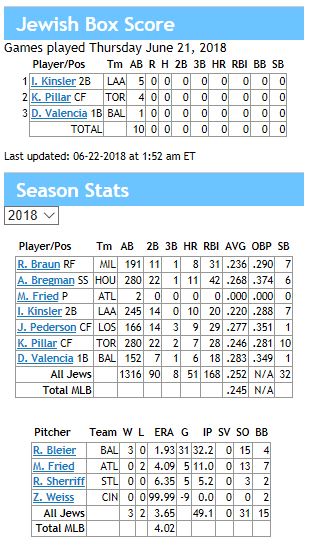 Ron Kaplan (@RonKaplanNJ) hosts Kaplan's Korner, a blog about Jews and sports. He is the author of three books, including The Jewish Olympics: The History of the Maccabiah Games and Hank Greenberg in 1938: Hatred and Home Runs in the Shadow of War.
# # #
Get your Jewish Baseball News updates via e-mail