August 1, 2018 (Wednesday)
By Ron Kaplan, contributor
Well, the big news is that Ian Kinsler will be joining the first-place Boston Red Sox. The four-time All Star and 2016 Gold Glove winner was acquired in a trade with the LA Angels, who in turn had acquired him from the Detroit Tigers during the 2017-18 offseason. Possessing a combination of power and speed, Kinsler has 247 home runs and 234 stolen bases over his 13 seasons, ranking him 4th among Jewish players in the former category and 1st in the latter.
From MLB.com:
"We're very happy to get Ian," said Dombrowski. "We also got cash considerations in the deal. Very happy. We were looking at trying to upgrade our club anyway we possibly can. He's been playing extremely well for an extended time period. He's been hitting well. He's a winning-type player. He's a very good defensive player, still has good instincts.

"We think he makes us a better ballclub, because he goes into second base and is in a spot where he can play basically every day. He's a good offensive player and a good defensive player, so we think he makes us a better club."
On Monday night, the Red Sox handed Gabe Kapler's first-place Philadelphia Phillies their fourth loss in a row, 2-1. Boston has the best record in the Majors at 75-33.
Alex Bregman — who reportedly may be angling to become more of a home-run hitter — had one of the suddenly struggling Houston Astros' four hits in their 2-0 loss to the host Seattle Mariners. The 'Stros (67-41) have lost seven of their last 10 games.
Ryan Braun was 1-for-3 with a walk and a run scored as the Milwaukee Brewers (62-47) beat the host LA Dodgers (59-48), 5-2. Joc Pederson was 1-for-3 as the Dodgers' starting left fielder and came out of the game for a pinch-hitter in the sixth.
Robert Stock did not appear for the San Diego Padres (42-67) in their 12-inning, 5-3 loss to the visiting San Francisco Giants.
No game for Danny Valencia and the Baltimore Orioles (32-74).
Toronto Blue Jays (48-57) outfielder non-nonpareil Kevin Pillar is making progress as he tries to come back from the DL.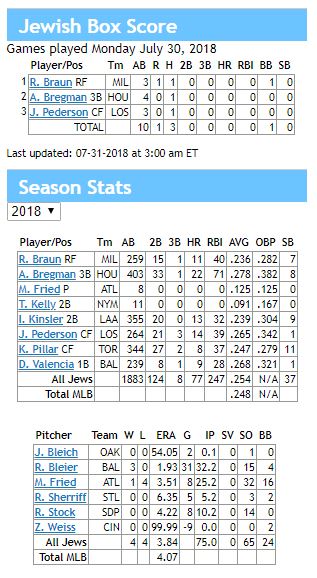 Ron Kaplan (@RonKaplanNJ) hosts Kaplan's Korner, a blog about Jews and sports. He is the author of three books, including The Jewish Olympics: The History of the Maccabiah Games and Hank Greenberg in 1938: Hatred and Home Runs in the Shadow of War.
# # #
Get your Jewish Baseball News updates via e-mail