And they're mixed
May 28, 2019 (Tuesday)
By Scott Barancik, Editor
Ryan Braun is one round-tripper away from eclipsing Hank Greenberg's career record of 331 home runs. Because of his checkered past — Braun was suspended 65 games in 2013 for violating Major League Baseball's drug policy — Jewish Baseball News asked readers last week to weigh-in on whether the new record should be marked with an asterisk.
To do this, we posted polls on our Twitter and Facebook feeds and e-mailed the same poll to our subscriber list. The results were mixed.
A majority of Facebook readers (54.4 percent) favored placing an asterisk on Braun's forthcoming record. The vote tally was 49 Yes, 41 No.
By the slimmest majority possible — one vote out of 99, or 50.5 percent — Twitter readers voted in favor of an asterisk. The tally was 50 Yes, 49 No.
Confusingly, e-mail subscribers came out as strongly against the asterisk as Facebook readers came out for it. A total of 90 subscribers (54.5 percent) voted No on the asterisk, while 75 subscribers (45.5 percent) voted Yes.
If you were to combine the votes from all three sources, the No's would beat the Yes's by a small margin. But assuming that some readers voted on more than one platform, we don't consider that a meaningful result.
Several readers offered unsolicited opinions. For example, one e-mail subscriber who voted against the asterisk wrote this:
Although Braun is tarnished with what happened in 2013, there is NO evidence that whatever he did made him a better hitter, a more powerful hitter. After the suspension, he continued to be a power hitter, through injuries and so forth. I don't think his career totals are padded in the way that Barry Bond's totals are quite obviously. There was NO physical transformation, and Braun has had some good seasons since without any Performance Enhancing Drugs. (Edited for clarity)
And a Twitter reader who voted against the asterisk wrote this:
Keep the asterisk in ur heart but not on the page. We don't know which HRs were the result of PEDs & which weren't, & never will. We can't scientifically compare performance to what it would have been otherwise. In my heart Hank Aaron is HR king but in the books it has to be Bonds. (Edited for clarity)
So what to do? One luxury of managing a website — or one burden, if you prefer — is the power to have the last word. Jewish Baseball News was prepared to abide the will of the voters on the asterisk issue, and we thank you for sharing your opinion. But in the absence of a clear mandate, we have decided to substitute our own point of view.
Which is this: that Braun's forthcoming home-run record shall be marked with an asterisk.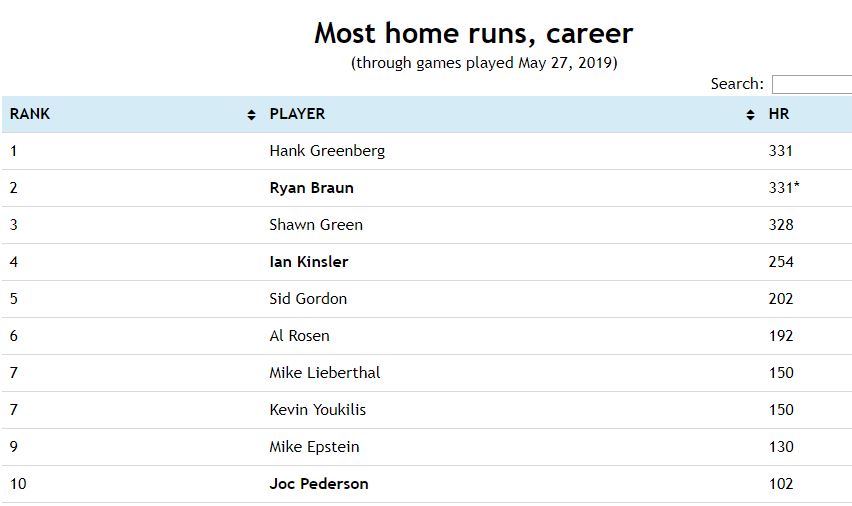 Get your Jewish Baseball News updates via E-mail, Facebook, Twitter or Instagram