Games played through September 15, 2022
September 19, 2022 (Monday)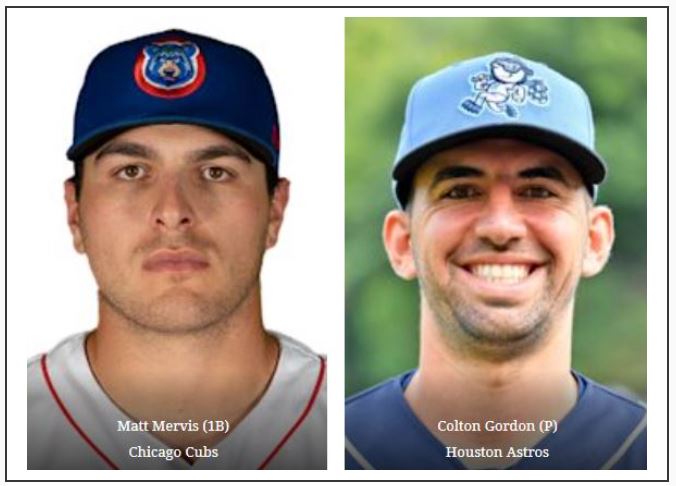 By Scott Barancik, Editor
We've seen many Jewish accomplishments in the minor leagues between July 8, 2022 and September 15, 2022. Following are some highlights:
Mazel Tov
MLB.com recently named 3B Zack Gelof (Athletics/Double-A/Midland RockHounds) #98 out of baseball's 100 top minor-league prospects. The website projected that Gelof, just 22 years old, will make it to the Majors in 2023.
At least four Jews have been chosen to play in the prestigious Arizona Fall League, which begins October 3. MLB franchises typically send their top prospects to the AFL for additional competition and seasoning. The four players include Gelof, 1B Matt Mervis (Cubs AAA/Iowa Cubs), P Alex Segal (Braves/High-A/Rome Braves), and rookie P Colton Gordon (Astros/High-A/Asheville Tourists). Mervis and Gelof will be teammates on the Mesa Solar Sox.
P Jared Shuster (Braves/AAA/Gwinnett Stripes) was named Southern League (AA) Pitcher of the Week for July 11-17. The award came after a dominating win in which the former 1st-round draft pick struck out 12 and yielded just 2 hits and no walks over 7 scoreless innings.
Brandon Gold (Rockies/AAA/Albuquerque Isotopes) was named Pacific League Pitcher of the Week for August 8-14. The honor came after a win in which the 6-foot-3-inch right hander yielded just 2 hits and no walks over 6 scoreless innings while striking out 2.
The Rockies recently added P Noah Davis (AA/Hartford Yard Goats) to the club's 40-man roster.
Debuts and second chances
P Bubby Rossman (Phillies) defied the odds when he made his Major League debut on July 13 (see article). Until Philadelphia signed him as a free agent in late 2021, the 6-foot-5-inch reliever hadn't played MLB-affiliated ball since 2016. But when two Phillies pitchers were declared ineligible to play in Canada in mid-July due to their unvaccinated status, Rossman received the call. With his fastball topping out at 98mph, he gave up a walk and a home run before retiring the next three batters. Making the outing even more memorable was the fact that Rossman's batterymate was C Garrett Stubbs.
P Jake Fishman (Marlins) made his MLB debut on July 31. A subsequent call-up led to another appearance, on August 30. On September 15, Miami called-up the 27-year-old rookie a third time.
P Zack Weiss (Angels) made his MLB debut with Cincinnati all the way back in 2018, and it didn't go well. The 6-foot-3-inch reliever faced four batters that day and retired none of them, instead yielding 2 HRs and 2 walks. But Weiss kept at it, and four years later, it paid off. In five appearances since the Angels called him up September 1, the 30-year-old has maintained a perfect 0.00 ERA over 6 combined innings, yielding 2 hits and 5 walks while striking out 7.
Welcome
Credit to Team Israel alums Zach Weiss (Angels) and Alon Leichman for identifying two more Jewish prospects, both of them power hitters (see article). Chase Strumpf (Cubs/AA/Tennessee Smokies), a former 2nd-round draft pick who splits his time between second base and third base, ranked #1 on the Smokies through September 15 in times hit by pitch (19), #2 in on-base percentage (.377), and #3 in HRs (21) and doubles (22). 1B Jake Scheiner (Mariners/AA/Arkansas Travelers), a former 4th-round draft pick, ranked #5 among all minor leaguers with 105 RBIs (tied) and had hit 21 HRs.
The 2022 amateur draft was the least productive in memory, but at least four Jewish players were selected. They include P Eric Reyzelman (Yankees), a 21-year-old right hander out of Louisiana State University (Round 5, #160 overall); P Tanner Jacobson (Cardinals), a 22-year-old right hander out of Queens University of Charlotte (Round 10, #307); C Jordan Dissin (Phillies), a 20-year-old out of the University of Richmond (Round 12, #362); and P Graham Firoved (Cubs), a 22-year-old out of Virginia Polytechnic (Round 16, #467). Shortly after the draft, the Yankees signed P Harrison Cohen, a right hander out of George Washington U., as an undrafted free agent.
Stats to share
Through September 15, Jewish batters accounted for two of the top 6 run-producers among all minor leaguers. Matt Mervis (Cubs/AAA/Iowa Cubs) ranked #2 with 111 RBIs, while Jake Scheiner (Mariners) ranked #5 with 105 (tied).
In the space of a month, the Yankees signed three Jewish pitchers: Cubs workhorse Scott Effross, draftee Eric Reyzelman, and undrafted free agent Harrison Cohen.
Player spotlight: Matt Mervis
1B Matt Mervis (Cubs AAA/Iowa Cubs) wasn't even supposed to be here. An infielder and pitcher at Duke University, he excelled at neither. All 30 MLB teams ignored him in the 2020 draft. The Cubs signed Mervis soon after as an undrafted free agent, but his first season as a pro was uninspired: a .209 batting average with 9 HRs for Chicago's Low-A team. Then, in 2022, something clicked.
Mervis started the season in High-A and powered his way through Double-A before settling in with Chicago's Triple-A squad, the Iowa Cubs. Through September 15, he was hitting a combined .309 with 33 HRs, 111 RBIs, and a .983 OPS (on-base plus slugging).
Mervis's 33 HRs ranked second among all minor leaguers. His prior season high, either as a pro or college player, was 9.
The Cubs named Mervis their Minor League Player of the Month for August. Ironically, that was his least-productive month of the season so far.
Mervis is one of six top prospects the Cubs have tagged to play in the Arizona Fall League.
MLB.com projects that Mervis will make his Major League debut in 2023.
At the plate
C Jordan Dissin (Phillies/Rookie/FCL Phillies), a 12th-round pick in the 2022 amateur draft, made his professional debut on August 6. He is hitting .353 (6-for-17) with 5 walks, 2 hit by pitches, and 6 strikeouts.
3B Noah Mendlinger (Cardinals/High-A/Peoria Chiefs), an undrafted free agent who signed with St. Louis in 2021, has upped his game since we last checked in. Through July 7, the 22-year-old was hitting .209 (24-for-115) with 0 HRs, 7 RBIs, and a healthy .372 OBP. From July 8 through September 15, Mendlinger hit .284 (31-for-109) with 2 HRs, 11 RBIs, and a .397 OBP.
1B Matt Mervis (Cubs/AAA/Iowa Cubs) was promoted to Triple-A on July 22. From then through September 15, the sophomore pro hit .295 (49 for 166) with 12 HRs, 31 RBIs, a .369 OBP, and a .971 OPS.
On the mound
Colton Gordon (Astros/High-A/Asheville Tourists), a 2021 draftee who didn't make his pro debut until 2022, has come a long way since July 7, when he was playing for one of Houston's rookie-league teams. Gordon's first stop was at Fayetteville (Low-A), where he went 0-0 with a 2.21 ERA across 5 games (including 3 starts), held opposing batters to a mere 0.787 walks/hits per inning, and struck out 27 batters over 20.1 combined innings while walking only 3. From there the 6-foot-4-inch southpaw headed to Asheville (High-A), where he put up nearly identical numbers. Gordon's most recent start was his finest yet. In a September 11 win against the Greenville Drive, he tossed 5.2 scoreless innings, yielding just 3 hits and no walks while striking out 9. Small wonder that Houston decided to enroll the 23-year-old rookie in the upcoming Arizona Fall League.
Injured
Released
# # #
For the latest information from Jewish Baseball News, follow us on Facebook, Twitter or Instagram
You also can get selected updates via e-mail