It was as fun as it was unlikely
July 15, 2022 (Friday)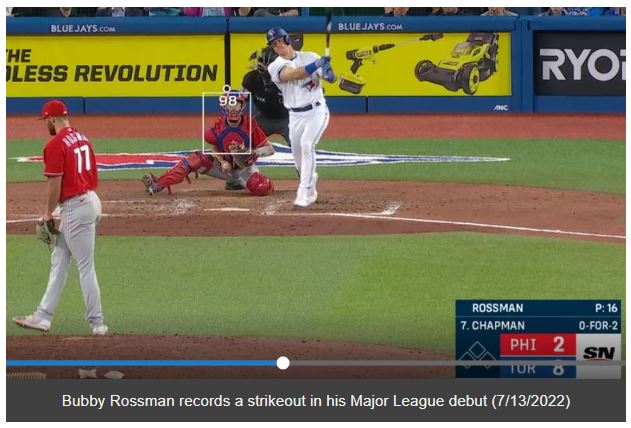 By Scott Barancik, editor
After one of the most improbable call-ups of 2022, P Bubby Rossman made his Major League debut Wednesday night with the Philadelphia Phillies (July 13).
The circumstances were unusual. Four Phillies, including two pitchers, were ineligible to play the Blue Jays in Canada — where COVID laws are stiffer — because they were unvaccinated. Philadelphia filled one of the temporary slots with Rossman, a Double-A righthander who, until this season, hadn't played MLB-affiliated ball since 2016.
Rossman took the mound in the 8th inning. Things didn't go well at first. The 30-year-old walked Alejandro Kirk on five pitches. Next up came Teoscar Hernandez, who powered a 2-1 fastball over the right-field fence.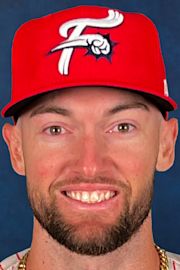 But a mound visit appeared to calm him down. Rossman retired the next three batters on just 9 pitches, including a 98-mph, four-seam fastball to strike out Matt Chapman (see video).
Making the outing even more memorable was the fact that Rossman's batterymate was Jewish catcher Garrett Stubbs.
The one-inning stint left Rossman with quintessentially Jewish statistics: an 18.00 ERA on 18 total pitches. After the game, he and his fellow replacement pitcher were sent back down to the minors, as expected.
Thus ended the latest chapter in the unlikely career of Charles Rossman III, a 6-foot-5 righthander with dual U.S. and Israeli citizenship and a vegan diet that helps him stay trim.
Drafted by the Los Angeles Dodgers in 2014, Rossman got no further than High-A before his release in 2016. Except for representing Israel in the 2021 European Championships, a high point in his baseball arc, Rossman was relegated to independent-league teams, including ones in Mexico and Canada and another called the Nerds.
Yet the California native wasn't ready to give up on his dream. According to a January 2022 article in NBCSports: "Rossman worked with several data- and technology-based training outfits, including Driveline and Tread Athletics. He refined his mechanics and got in better shape. He worked with throwing guru Tom House, whose clients include Tom Brady and Cole Hamels, and lately has trained with ageless former big-league pitcher Joe Beimel, who made a comeback at age 44 last season."
To tout his growing skills, Rossman also created a website. "It should be noted that Bub has low miles on a very powerful arm and is healthy both in his career and lifestyle," he wrote. "Passion, persistence, perseverance."
What led the Phillies to make the call no other team had since 2016? Jewish Baseball News hasn't a clue. It's worth noting that Phillies vice president and general manager Sam Fuld himself represented Israel in the 2017 World Baseball Classic.
For now, Rossman is back in Double-A, where he also is breaking ground. A career reliever dating back to his days at Cal State Dominguez Hills, Rossman has started 8 games this season for the Reading Fightin Phils, during which he has recorded a 2.25 ERA, fanned 21 in 16 innings, and held batters to a meek .148 average.
# # #
For the latest information from Jewish Baseball News, follow us on Facebook, Twitter or Instagram
You also can get selected updates via e-mail