November 10, 2011 (Thursday)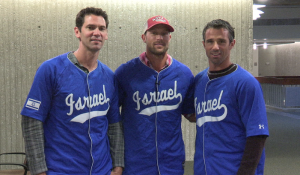 JEWISH BASEBALL NEWS — Ex-major leaguers Shawn Green, Brad Ausmus, and Gabe Kapler are joining the effort to make Team Israel a contender at the 2013 World Baseball Classic.
Peter Kurz, secretary general of the Israel Association of Baseball, told the Associated Press that one of the three Jewish players is likely to become the team's manager, and all three will aid in coaching, recruiting, and fundraising. Green, a lanky outfielder whose 328 career HRs place him a close second among Jews behind icon Hank Greenberg, said he would consider playing if the team thought he could help.
"I'm pretty confident that it wouldn't be too huge a mountain to climb to get back and play," he told AP. "I feel a strong connection to Israel and it would be an honor to put on the uniform."
The agreement grew out of a historic meeting this week between the players, Israeli baseball officials, pro and college coaches, two Israeli ballplayers, and others. Next year, Israel will have its first-ever chance to join the WBC competition via a new qualifying round. Kurz said he expects to recruit former Jewish major leaguers and current minor-league and college players for the qualifying round, and even current major leaguers if Israel makes it past the qualifying round.
"My gut says they would consider playing," Ausmus said.
# # #
Planning to buy something on Amazon.com? Use our Amazon link (below) and you'll earn Jewish Baseball News a small commission. It costs you nothing!