By Ron Kaplan, contributor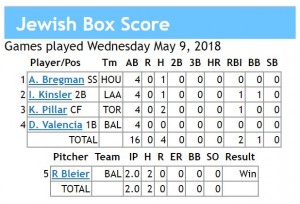 Richard Bleier picked up his third win against no losses as the Baltimore Orioles (9-27) beat the visiting KC Royals, 5-3. Bleier tossed two more shutout innings, giving up two hits and lowering his ERA to an A.L.-best 0.40. Danny Valencia was 0-for-4 as the third baseman, batting seventh. The win broke a seven-game losing streak for the O's.
Kevin Pillar was 2-for-4 with an RBI as the Toronto Blue Jays (20-17) beat the visiting Seattle Mariners, 5-2. He was thrown out trying to stretch that RBI single into a double:
Ian Kinsler — dropped from leadoff to sixth in the lineup — was 1-for-4 with an RBI as the LA Angels (22-14) shut out the host Colorado Rockies, 8-0.
Alex Bregman was 1-for-4 as the Houston Astros (24-15) beat the host Oakland A's, 4-1.
Ryan Braun did not appear for the Milwaukee Brewers (21-16) in their 6-2 loss to the visiting Cleveland Indians.
Joc Pederson did not appear for the LA Dodgers (16-20) in their 6-3 win over the visiting Arizona Diamondbacks.
Gabe Kapler's Philadelphia Phillies (21-15) beat the visiting San Francisco Giants, 11-3.
Ron Kaplan (@RonKaplanNJ) hosts Kaplan's Korner, a blog about Jews and sports. He is the author of three books, including The Jewish Olympics: The History of the Maccabiah Games and Hank Greenberg in 1938: Hatred and Home Runs in the Shadow of War.
# # #
Get your Jewish Baseball News updates via e-mail