By Ron Kaplan, contributor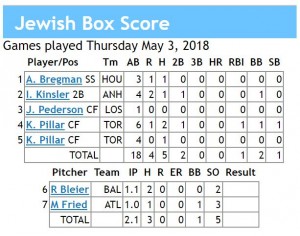 The Toronto  Blue Jays (18-14) and host Cleveland Indians played a wild doubleheader yesterday. The Jays won the opener, 13-11, in 14 innings, scoring four times in the last frame. The Indians came up just short, putting two over in their last ups. In the nightcap, though, the Indians prevailed in a more conventional 13-4 win. Kevin Pillar was 2-for-6 in the first game with his MLB-leading 13th double, a run scored, an RBI, and his sixth stolen base. He had a single in four at-bats in the second game.
Ian Kinsler doubled (#3) and walked in five plate appearances, scoring a run as the LA Angels (19-12) beat the visiting Baltimore Orioles (6-23), 12-3. Richard Bleier extended his scoreless streak, adding another 1.1 innings in which he allowed two hits and struck out two. Danny Valencia got into the game as a defensive replacement but did not come to bat. Kinsler was involved in this weird double play.
Alex Bregman was 1-for-3 with a run scored as the Houston Astros (20-13) lost to the visiting NY Yankees, 6-5, thanks to a three-run ninth by the Bombers.
Joc Pederson entered the game for the LA Dodgers (14-17) in the eighth inning as a defensive replacement. He struck out to end the ninth as the Dodgers beat the host Arizona Diamondbacks, 5-2.
Max Fried lowered his ERA to 6.75 based on one inning of work in the Atlanta Braves' 11-0 win over the host NY Mets. Fried allowed one hit, walked one, and struck out the side in the bottom of the ninth. The Braves now lead the NL East with a record of 19-11, a game and a half over the suddenly struggling Mets.
Gabe Kapler's Philadelphia Phillies had the day off, as did Ryan Braun and the Milwaukee Brewers.
Ron Kaplan (@RonKaplanNJ) hosts Kaplan's Korner, a blog about Jews and sports. He is the author of three books, including The Jewish Olympics: The History of the Maccabiah Games and Hank Greenberg in 1938: Hatred and Home Runs in the Shadow of War.
# # #
Get your Jewish Baseball News updates via e-mail