By Ron Kaplan, contributor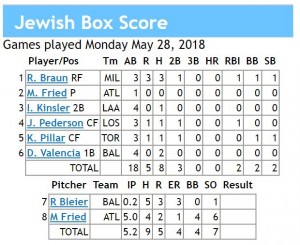 The Atlanta Braves (31-23) called up Max Fried to pitch the opening game of a day/night doubleheader with the visiting NY Mets. He had mixed results. On the one hand, he gave up four walks and four hits in five innings. On the other hand, he struck out six, picked off two runners — Michael Conforto and Jose Bautista  — and allowed just one earned run (two total). He was not involved in the decision, a 4-3 Braves win on a walk-off, pinch-hit home run by Charlie Culberson after the Mets had taken a 3-2 lead in the top of the ninth on a pinch-hit home run of their own. Fried was sent back to AAA after the game; he was just used as the 26th man, a relatively new tool available for teams playing doubleheaders.
Ryan Braun had his best offensive outing of the year, going 3-for-3 with a double and a walk, scoring three runs and driving in another to lead the Milwaukee Brewers (35-20) to an 8-3 win over the visiting St. Louis Cardinals. Braun was batting fifth in the order, dropped down from his normal third spot.
Kevin Pillar hit his AL-leading 20th double for his only hit in three at-bats (plus a walk). He also stole his ninth base in nine attempts and scored a run as the Toronto Blue Jays (25-29) lost to the host Boston Red Sox, 8-3.
Joc Pederson — batting in the leadoff spot — doubled for his only hit in three at-bats (one run scored, one RBI to put his team on the board) as the LA Dodgers (25-28) scored five times in their last three innings to overcome a 4-0 lead by Gabe Kapler's Philadelphia Phillies (29-22) and win 5-4. Pederson came out of the game in the eighth for a pinch-hitter. The Dodgers went without a hit until the sixth inning.
Ian Kinsler was 1-for-4 as the LA Angels (29-25) lost to the host Detroit Tigers, 9-3.
Richard Bleier had his worst game of the year, giving up three runs on five hits and retiring just two batters as the Washington Nationals beat the Baltimore Orioles (17-37), 6-0. His ERA shot up from 1.37 to 2.33. All this after all those articles citing how he was one of the few bright spots on a dreadful Orioles roster. Jinx! Danny Valencia was 2-for-4 as the starting third baseman, batting fifth.
The Houston Astros (35-20) gave Alex Bregman the day off as they beat the host NY Yankees. 5-1.
Ron Kaplan (@RonKaplanNJ) hosts Kaplan's Korner, a blog about Jews and sports. He is the author of three books, including The Jewish Olympics: The History of the Maccabiah Games and Hank Greenberg in 1938: Hatred and Home Runs in the Shadow of War.
# # #
Get your Jewish Baseball News updates via e-mail