By Ron Kaplan, contributor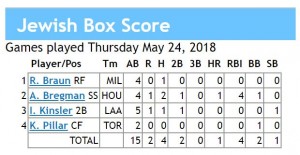 Ian Kinsler was 1-for-5 with his seventh double of the year as the LA Angels (28-22) crushed the host Toronto Blue Jays, 8-1. Kevin Pillar was o-for-2 with a walk for the Jays (23-27), who have lost seven of their last nine games.
Neither Danny Valencia nor Richard Bleier appeared for the Baltimore Orioles (16-34), who beat the hist Chicago White Sox, 9-3, behind a complete game from Dylan Bundy.
Ryan Braun was back for the Milwaukee Brewers (31-20), batting third and playing left field as they were shut out by the visiting NY Mets, 5-0. Braun — just reinstated from the disabled list with back tightness — singled in his first at bat and was 1-for-4.
Alex Bregman hit a three-run home run to give the Houston Astros (33-18) a 3-2 lead over the host Cleveland Indians in the fifth inning. He added an RBI double (#17) in the the eighth to close out the scoring in an 8-2 Astros win.
Joc Pederson and the LA Dodgers had the day off, as did Gabe Kapler's Philadelphia Phillies.
Ron Kaplan (@RonKaplanNJ) hosts Kaplan's Korner, a blog about Jews and sports. He is the author of three books, including The Jewish Olympics: The History of the Maccabiah Games and Hank Greenberg in 1938: Hatred and Home Runs in the Shadow of War.
# # #
Get your Jewish Baseball News updates via e-mail