By Ron Kaplan, contributor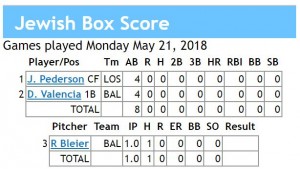 Richard Bleier picked up his second hold in a row for the Baltimore Orioles (15-32), who held off the host Chicago White Sox, 3-2. He allowed one hit in one inning of work. Danny Valencia was 0-for-4 as the starting third baseman (batting fifth).
Joc Pederson was 0-for-4 as the leadoff batter and starting left fielder in the LA Dodgers' (20-27) 2-1 loss to the visiting Colorado Rockies.
Gabe Kapler's Philadelphia Phillies (27-18) shut out the visiting Atlanta Braves, 3-0. Kap discussed the win in a post-game interview:
Ryan Braun remains on the disabled list for the Milwaukee Brewers (29-19), who beat the visiting Arizona Diamondbacks, 4-2. But he's still managing to keep busy via volunteer work with Habitat for Humanity.
No game Monday for Kevin Pillar and the T0ronto Blue Jays, or Ian Kinsler and the LA Angels.
Ron Kaplan (@RonKaplanNJ) hosts Kaplan's Korner, a blog about Jews and sports. He is the author of three books, including The Jewish Olympics: The History of the Maccabiah Games and Hank Greenberg in 1938: Hatred and Home Runs in the Shadow of War.
# # #
Get your Jewish Baseball News updates via e-mail