By Ron Kaplan, contributor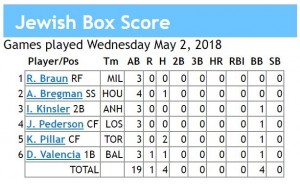 Kevin Pillar had one-third of the Toronto Blue Jays' offense Wednesday, going 2-for-3 with a walk in a 4-0 loss to the host Minnesota Twins. It's been a long time since we were treated to a defensive highlight from Pillar, so here you go:
You just have to hope he didn't hurt himself on the play. The Jays are 17-13.
Alex Bregman was 1-for-4 as the Houston Astros (20-12) were shut out by the visiting NY Yankees for the second night in a row by the score of 4-0.
Joc Pederson was 0-for-3 with a walk as the leadoff batter in the LA Dodgers' (13-17) 2-1 win over the host Arizona Diamondbacks.
Ian Kinsler was 0-for-3 with a walk as the LA Angels (18-12) beat the visiting Baltimore Orioles (8-22), 10-7. He came out of the game for a pinch-hitter in the eighth with the Angels leading, 9-4. Baltimore scored five tuns in the ninth to make things a little tense. Danny Valencia was the starting third baseman for the O's, batting fifth. He was 1-for-3 with a run a scored. Richard Bleier did not appear in the game.
Ryan Braun came out of the game between the Milwaukee Brewers (19-13) and host Cincinnati Reds in the bottom of the sixth with calf tightness. He went 0-for-3 in the Brewers' 3-1 win. Given his injuries over the past few seasons, I guess Milwaukee fans are justified in asking if he's worth his salary?
Max Fried did not appear for the Atlanta Braves (18-11), who took over first place by beating the host NY Mets, 7-0.
Gabe Kapler's Philadelphia Phillies (17-13) beat the host Miami Marlins, 6-0.
Ron Kaplan (@RonKaplanNJ) hosts Kaplan's Korner, a blog about Jews and sports. He is the author of three books, including The Jewish Olympics: The History of the Maccabiah Games and Hank Greenberg in 1938: Hatred and Home Runs in the Shadow of War.
# # #
Get your Jewish Baseball News updates via e-mail