By Ron Kaplan, contributor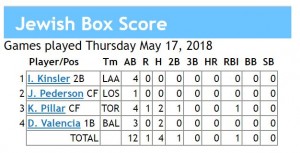 Kevin Pillar was 2-for-4 with his MLB-best 18th double of the year as the Toronto Blue Jays (22-22) lost 10-5 to the visiting Oakland A's. He drove in a run with a sac fly and scored another. Sadly, there are some who see his strong start in a less-than-charitable light.
Speaking of Pillar, his mom threw out the ceremonial first pitch on Mother's Day:
Danny Valencia — starting at third and batting seventh for the Baltimore Orioles (13-30) — had two of his team's five hits in a 6-2 loss to the host Boston Red Sox. Richard Bleier did not appear for the O's.
Ian Kinsler was 0-for-4 as the LA Angels (25-19) lost to the visiting Tampa Bay Rays, 7-1.
Joc Pederson was 0-for-1 after entering the game as a defensive replacement as the LA Dodgers (17-26) shut out the host Miami Marlins, 7-0.
Alex Bregman and the Houston Astros had the day off.
Gabe Kapler's Philadelphia Phillies (25-16) beat the host St. Louis Cardinals, 6-2. In case you haven't noticed, the Phillies are just a half game out of first place in the NL East.
Was this trip really necessary? The Atlanta Braves called up Max Fried to start yesterday's game against the visiting Chicago Cubs. But when the game was cancelled, Fried was returned to the minors.
As I was sayin': The Milwaukee Brewers have put Ryan Braun on the 10-day disabled list. All I can think of is the Mets' David Wright. He's seen an outstanding career sidetracked the past few years due to injuries.
Ron Kaplan (@RonKaplanNJ) hosts Kaplan's Korner, a blog about Jews and sports. He is the author of three books, including The Jewish Olympics: The History of the Maccabiah Games and Hank Greenberg in 1938: Hatred and Home Runs in the Shadow of War.
# # #
Get your Jewish Baseball News updates via e-mail