By Ron Kaplan, contributor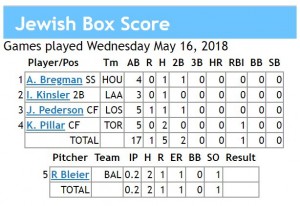 Kevin Pillar was 2-for-5 with an RBI (and two strikeouts) as the Toronto Blue Jays (22-21) beat up on the host NY Mets in a rain-soaked game, 12-1.
Joc Pederson had a double (#5) in five at-bats as the LA Dodgers fell to the host Miami Marlins, 6-5. He had a couple of good defensive plays, including a tumbling catch and an assist, throwing out a runner at third base.
Alex Bregman picked up his 14th double, his only hit in four at-bats, and scored a run as the Houston Astros (28-17) beat the host LA Angels, 2-0. Ian Kinsler was 1-for-3 for the Angels (25-18).
Make that two games in a row in which the previously stingy Richard Bleier has allowed the opposition to score. This time it was one run on two hits in 0.2 innings as the Baltimore Orioles (13-29) lost to Gabe Kapler's Philadelphia Phillies (24-16), 4-1. Danny Valencia did not appear for the O's.
Ryan Braun missed another game as the Milwaukee Brewers (26-18) beat the host Arizona Diamondbacks, 8-1. Braun has been plagued by back issues and may end up on the disabled list.
Ron Kaplan (@RonKaplanNJ) hosts Kaplan's Korner, a blog about Jews and sports. He is the author of three books, including The Jewish Olympics: The History of the Maccabiah Games and Hank Greenberg in 1938: Hatred and Home Runs in the Shadow of War.
# # #
Get your Jewish Baseball News updates via e-mail