By Ron Kaplan, contributor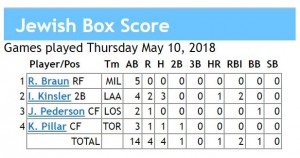 Maybe moving down in the lineup helped: Ian Kinsler was 3-for-4 with his second homer of the year as the LA Angels (23-14) beat the visiting Minnesota Twins, 7-4 (see article). The two-run blast put the Angels on the scoreboard in the second inning.
Kevin Pillar hit his A.L.-leading 16th double of the year and scored a run as the Toronto Blue Jays (20-18) lost to the visiting Seattle Mariners, 9-3. It was the only hit in three at-bats for Pillar, who came out for a pinch-hitter in the ninth.
Ryan Braun was 0-for-5 as the Milwaukee Brewers (22-16) topped the host Colorado Rockies, 5-2.
Joc Pederson was 0-for-2 with a walk and a run scored as the LA Dodgers (16-21) lost 4-1 to the suddenly-improved Cincinnati Reds. He came out of the game for a pinch-hitter in the seventh.
Neither Richard Bleier nor Danny Valencia appeared for the Baltimore Orioles (10-27) in their 11-6 win over the visiting KC Royals.
Alex Bregman and the Houston Astros had the day off.
Gabe Kapler's resilient Philadelphia Phillies improved to 22-15 by sweeping their series against the visiting San Francisco Giants with a 6-3 victory.
By the way, Pillar and Bleier (middle and far right in the photo below) were named in MLB.com article titled "Here are 5 unsung heroes in the AL East." As Jack R. noted in an email, "40% Jews!"
Here's the lowdown for both MOTs:
Blue Jays OF Kevin Pillar
Why you should know about him: Despite never having won a Gold Glove Award, Pillar is generally regarded as one of the top defensive outfielders. His Superman dives have become his own personal trademark across Canada, and he makes frequent appearances on the highlight reels.

Why you don't: Pillar has never really offered much beyond his glove. Entering Wednesday, he had a career on-base percentage of .306, but surprisingly enough, it's his bat that deserves some praise during the early stages of 2018. Pillar has moved into the heart of Toronto's lineup, and he entered Wednesday tied for the Major League lead with 15 doubles. He also led the Blue Jays in hits (42), average (.309) and slugging percentage (.537).

What they're saying: "When you look at him, his pitch selection has been good. He has been laying off some tough pitches and putting the ball in play. You hope he keeps on this run. He's moved up into the middle of the order, and that's a good thing. … He was playing pretty well and doing some things in Spring Training that carried into the season. That's pitch selection and putting the barrel on the ball." — Blue Jays bench coach DeMarlo Hale

Orioles LHP Richard Bleier
Why you should know about him: It's tough to envision a reliever having a better start to a year than Bleier, who entered Wednesday with a 0.44 ERA in 20 2/3 innings. He's allowed one earned run over 16 outings with a 0.92 WHIP, as he has quickly become Baltimore's most reliable reliever.

Why you don't: The Orioles are in last place in the AL East and entered Wednesday with the worst record in the Majors. Plus, Bleier doesn't strike out a lot of guys and isn't overpowering. Who can forget the bases-loaded spot in which he retired Judge and Giancarlo Stanton at Yankee Stadium last month? Bleier's entire arsenal is under the radar.

What they're saying: "He's still under the radar a little bit, I think, because the strikeouts aren't glaring at you. When you look at the peripheral stuff and don't understand how Richard pitches, you may not be that impressed with it. But there's a lot of parts about it that should get your attention. He's not an Andrew Miller approach. But you're seeing a guy really come into, 'Here's who I am, and here's what I need to do to be successful." — O's manager Buck Showalter
Mazel tov, boys.
Ron Kaplan (@RonKaplanNJ) hosts Kaplan's Korner, a blog about Jews and sports. He is the author of three books, including The Jewish Olympics: The History of the Maccabiah Games and Hank Greenberg in 1938: Hatred and Home Runs in the Shadow of War.
# # #
Get your Jewish Baseball News updates via e-mail