By Ron Kaplan, contributor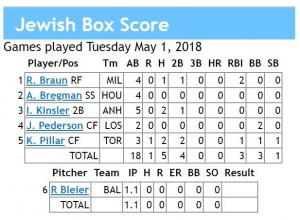 Kevin Pillar had two more doubles — he is second in the A.L. with 12 — a sacrifice fly, and a run scored as the Toronto Blue Jays (17-12) beat the host Minnesota Twins, 7-4, in 10 innings. His latest two-bagger led off the final inning. He immediately stole third base and scored the go-ahead run on a wild pitch. Pillar also had a walk in his four plate appearances. His great start has caused some to wonder if this is his break-out year.
Ryan Braun's sixth double of the year was good for two runs and gave the Milwaukee Brewers (18-13 ) a 5-3 lead in the fifth. They went on to beat the host Cincinnati Reds, 8-6. It was Braun's only hit in four at-bats. He also made this nice catch in left.
Ian Kinsler had a double (#2) and single in five at-bats as the LA Angels (17-12) best the visiting Baltimore Orioles (8-21), 2-1. Richard Bleier pitched 1.1 perfect innings (0.50 ERA) for the Orioles; Danny Valencia did not appear in the game.
Joc Pederson was 0-for-2 but reached base three times with two walks and a hit-by-pitch as the LA Dodgers (12-17) fell to the host Arizona Diamondbacks, 4-3.
Alex Bregman was 0-for-4 for the Houston Astros (20-11), who were shut out by the host NY Yankees, 4-0.
Gabe Kapler's Philadelphia Phillies (16-13) lost to the hot Miami Marlins, 2-1.
Ryan Sherriff is doing well in his rehab assignment for the St. Louis Cardinals.
Ron Kaplan (@RonKaplanNJ) hosts Kaplan's Korner, a blog about Jews and sports. He is the author of three books, including The Jewish Olympics: The History of the Maccabiah Games and Hank Greenberg in 1938: Hatred and Home Runs in the Shadow of War.
# # #
Get your Jewish Baseball News updates via e-mail