By Ron Kaplan, contributor
Another home run-happy day for the Hebrews.
Joc Pederson remains hot: He began the day with a home run leading off in the first and ended the day with another homer in the eighth as the LA Dodgers (31-31) used nine pitchers to beat the host Pittsburgh Pirates, 8-7. Pederson also had a double (#11) in five at-bats.  That gives him five long balls in his last seven games. He's batting .471 this month with a slugging percentage of 1.471.
Kevin Pillar flied out as a pinch-hitter in the eighth inning for the Toronto Blue Jays (27-35), but he remained in the game and delivered an RBI that knotted their game with the Baltimore Orioles at 4-4. The Jays won in 10, 5-4. Danny Valencia hit a long home run (#6) in the eighth to give the O's (19-42) a 3-1 lead. He also had a single and a walk in five trips to the plate batting cleanup. Richard Bleier pitched one scoreless inning (one hit) and picked up his ninth hold.
Alex Bregman hit his seventh dinger, 19th double, and scored twice as the Houston Astros 39-25) beat the host Texas Rangers, 5-2.
Gabe Kapler's Philadelphia Phillies (38-28) lost to the host Chicago Cubs, 4-3.
Ryan Braun and the Milwaukee Brewers had the day off as did Ian Kinsler and the LA Angels.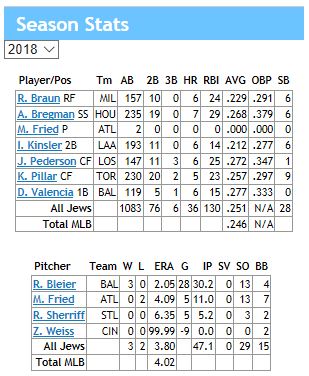 Ron Kaplan (@RonKaplanNJ) hosts Kaplan's Korner, a blog about Jews and sports. He is the author of three books, including The Jewish Olympics: The History of the Maccabiah Games and Hank Greenberg in 1938: Hatred and Home Runs in the Shadow of War.
# # #
Get your Jewish Baseball News updates via e-mail