By Ron Kaplan, contributor
Ian Kinsler's sixth home run of the year broke a 1-1 tie as the LA Angels (35-28) held off the visiting KC Royals, 4-3. The two-run shot came in the sixth inning to give the Halos a 3-1 advantage. Kinsler — who has 24 lifetime homers against the Royals — also doubled (#11) and scored another run. Since sinking to a season-low batting average of .178 on May 27, he has hit .341 (14-for-41) with 4 HRs and 8 RBIs.
The Baltimore Orioles (19-41) got only five hits, and Danny Valencia — playing third base  — didn't get any in four at-bats. But the O's still managed to beat the slumping host NY Mets, 1-0, on a Manny Machado sac fly in the eighth. Richard Bleier appeared in the game and for the second day in a row induced a double play ball (on this nice defensive move) to escape potential danger. He picked up his eighth hold.
The Toronto Blue Jays (26-35) managed just four hits in a 3-0, 13-inning loss to the visiting NY Yankees. Kevin Pillar was 0-for-5 with two whiffs.
Alex Bregman had two singles in four at-bats plus a walk, a run and an RBI as the Houston Astros beat the visiting Seattle Mariners, 7-5.
Joc Pederson was announced as a pinch-hitter but did not come to bat as the LA Dodgers (30-31) lost to the host Pittsburgh Pirates, 11-9.
The Milwaukee Brewers (37-25) again kept Ryan Braun out of the lineup as they lost to the host Cleveland Indians, 3-1. What's up with that?
Gabe Kapler's Philadelphia Phillies (32-27) lost to the host Chicago Cubs, 7-5, on a walk-off grand slam by Jason Heyward with two outs and a 2-2 count in the ninth.
Say a mishebeyrach for Ryan Sherriff of the St. Louis Cardinals. His season is over as he underwent Tommy John surgery on Tuesday. He will miss at least a  good portion of next year as well. The 28-year-old lefty  made his debut last season when he tossed 14.1 innings in 15 games, striking out 15 and walking just four. This season, Sherriff pitched just 9.2 innings in both the Majors and minors before going under the knife. Here's wishing him well.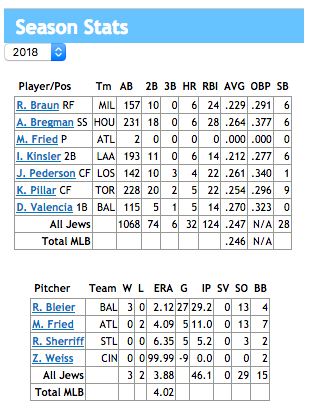 Ron Kaplan (@RonKaplanNJ) hosts Kaplan's Korner, a blog about Jews and sports. He is the author of three books, including The Jewish Olympics: The History of the Maccabiah Games and Hank Greenberg in 1938: Hatred and Home Runs in the Shadow of War.
# # #
Get your Jewish Baseball News updates via e-mail