By Ron Kaplan, contributor
Joc Pederson is on one of those streaks. He hit his third homer in the last three games to help the LA Dodgers shut out the host Pittsburgh Pirates, 6-0. Pederson's fourth dinger of the year came in the second inning with one man on and was his only hit in four at-bats. The win brings the Dodgers' record to the .500 mark at 30-30.
Meanwhile, Kevin Pillar hit home run #5, accounting for half of the offensive production for the Toronto Blue Jays (26-34) in a 7-2 loss to the visiting NY Yankees. The solo blast came in seventh and, like Pederson, accounted for Pillar's only hit on the night in three at-bats. Pillar also made this nice catch in the fourth.
Danny Valencia's sacrifice fly in the first gave the Baltimore Orioles (18-41) the winning margin in their 2-1 victory over the sliding host NY Mets. He was hitless in three official plate appearances. Valencia made a throwing error in the eighth after Richard Bleier entered with one on and one out, putting runners on first and second. But the lefty reliever induced an inning-ending double play to earn his seventh hold. The Orioles — with the worst road record in baseball — handed the Mets their fifth straight loss.
Ryan Braun was 1-for-4, striking out twice, as the Milwaukee Brewers (37-24) lost to the host Cleveland Indians, 3-2.
Alex Bregman singled once in four at-bats as the Houston Astros (37-25) lost to the host Seattle Mariners, 7-1.
Ian Kinsler was 0-for-4 as the leadoff batter, but the LA Angels (34-28) held off the visiting KC Royals behind a one-hitter by Andrew Heaney, pitching on his 27th birthday.
Gabe Kapler's Philadelphia Phillies (32-26) beat the host Chicago Cubs, 6-1.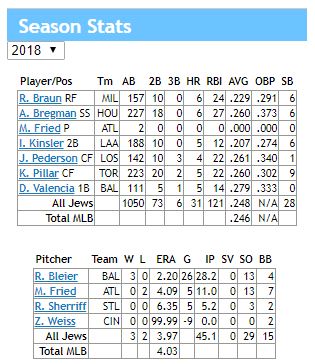 Ron Kaplan (@RonKaplanNJ) hosts Kaplan's Korner, a blog about Jews and sports. He is the author of three books, including The Jewish Olympics: The History of the Maccabiah Games and Hank Greenberg in 1938: Hatred and Home Runs in the Shadow of War.
# # #
Get your Jewish Baseball News updates via e-mail