By Ron Kaplan, contributor
Sorry, kids, no home runs for the boys last night.
Alex Bregman was 1-for-3 with a walk as the Houston Astros (55-28) beat the host Tampa Bay Rays, 1-0. According to the New Orleans Time-Picayune, Bregman's walk-off home run against the Toronto Blue Jays on June 27 was his third walk-off hit of the season, tops in the Major Leagues.
Ian Kinsler was 1-for-5 as the LA Angels (41-41) fell to the host Boston Red Sox, 4-2.
Danny Valencia was 0-for-4 as the Baltimore Orioles (23-57) lost to the visiting Seattle Mariners, 4-2.
Ryan Braun was hitless in four at-bats as the Milwaukee Brewers (47-33) beat the host Cincinnati Reds, 6-4.
Joc Pederson entered the game for the LA Dodgers (43-37) as a defensive replacement and was hitless in his only at bat in an 11-5 loss to the visiting Chicago Cubs.
Gabe Kapler's Philadelphia Phillies (43-36) beat the visiting Washington Nationals, 4-3.
No game for Kevin Pillar and the Toronto Blue Jays.
No word yet on if or when the Atlanta Braves will recall pitcher Max Fried for the weekend.
Look at that: not a single event that warrants a highlight.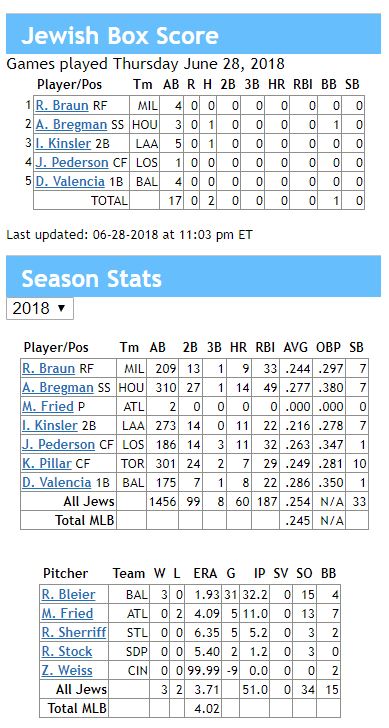 Ron Kaplan (@RonKaplanNJ) hosts Kaplan's Korner, a blog about Jews and sports. He is the author of three books, including The Jewish Olympics: The History of the Maccabiah Games and Hank Greenberg in 1938: Hatred and Home Runs in the Shadow of War.
# # #
Get your Jewish Baseball News updates via e-mail