By Ron Kaplan, contributor
What in the name of Hank Greenberg is going on lately?
Wowza! He done did it again! Not only did Alex Bregman hit his MOT-leading 14th home run last night, but it was the walk-off variety, a two-run, no-doubt blast with one out that won the game for the Houston Astros (54-28) over the visiting Toronto Blue Jays (37-43), 7-6. He also had a pair of two-baggers, which means that over his last two games, Bregman has had two homers — nine for the month — and five (!) doubles, adding up to 18 total bases.
Kevin Pillar was 2-for-3 with two runs scored and an RBI for the Jays. Is it possible they will trade him in the near future?
Meanwhile, Joc Pederson hit his tenth dinger of June (11th overall), a two-run job that was the winning difference as the LA Dodgers (43-36) held off the visiting Chicago Cubs, 7-5. This one came in the second inning and was his only hit in three at-bats; he also walked twice.
Ian Kinsler joined the hit parade with his 11th long-gone as the LA Angels (41-40) lost to the host Boston Red Sox, 9-6. He hit the first pitch he saw to lead off the fifth inning and put the Angels on the board. It was his only hit in five trips to the plate.
Then there was Danny Valencia, who hit #8 with one on and two out in the first inning. But the Baltimore Orioles (23-56) lost to the visiting Seattle Mariners in 11, 8-7. Valencia also had a single in his four at-bats before coming out of the game for a defensive replacement in the ninth. His stock is really going up as the O's continue to struggle.
Ryan Braun was 2-for-5 as the Milwaukee Brewers (46-33) lost to the visiting KC Royals, 5-4.
Robert Stock did not appear for the San Diego Padres (36-47) in their 5-2 loss to the host Texas Rangers.
Gabe Kapler's Philadelphia Phillies (42-36) shut out the visiting NY Yankees, 3-0.
And according to CSSports.com, Max Fried could rejoin the Atlanta Braves on Saturday, a call-up to take the spot of Brandon McCarthy, who went on the disabled list today. Fried is 0-2 in five games for the Braves in 2018.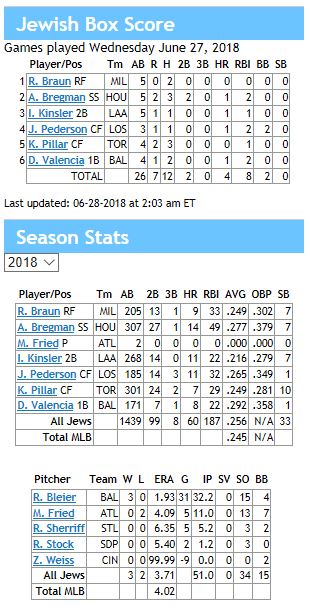 Ron Kaplan (@RonKaplanNJ) hosts Kaplan's Korner, a blog about Jews and sports. He is the author of three books, including The Jewish Olympics: The History of the Maccabiah Games and Hank Greenberg in 1938: Hatred and Home Runs in the Shadow of War.
# # #
Get your Jewish Baseball News updates via e-mail