June 27, 2018 (Wednesday)
By Ron Kaplan, contributor
Not quite as impactful as a couple of weeks back, when five different Jewish players hit HRs, but it was another homer-happy day for the fellas yesterday.
Alex Bregman hit his 13th, second in two games, and eighth in June to lead the Houston Astros (53-28) in their 7-0 whitewash over the visiting Toronto Blue Jays (37-42). He also had three doubles, adding up to a tidy 10 total bases for the event. His long-gone came with two out in the seventh and drove in two of the five Houston tallied to put the game away. According to Scott Barancik of JewishBaseballNews.com, Bregman is the second Major Leaguer to have one homer and three doubles in the same game this season; Mike Trout of the LA Angels is the other.
Kevin Pillar was 1-for-4 for the Jays.
Ryan Braun hit his ninth HR of the year and fourth in June as the Milwaukee Brewers (46-32) beat the visiting KC Royals, 5-1. His shot came with one on and none out in the ninth. Braun also doubled and walked.
Danny Valencia hit his seventh homer to lead off the second inning, giving the Baltimore Orioles (23-55) a 1-0 lead over the visiting Seattle Mariners. He also singled and walked, but the M-Men scored twice in the eighth for a 3-2 win.
Slugger Joc Pederson did not join the festivities. Perhaps he would have if the LA Dodgers (42-36) didn't use him only as a pinch-hitter in the ninth inning of their 9-4 loss to the visiting Chicago Cubs. Pederson struck out as the Dodgers' winning streak came to an end after four games.
Ian Kinsler was 2-for-4, accounting for 40 percent of the Angels' (41-39) hit total in their 9-1 loss to the host Boston Red Sox.
Robert Stock did not pitch for the San Diego Padres (36-46) in their 3-2 win over the host Texas Rangers.
Gabe Kapler's Philadelphia Phillies (41-36) were shut out by the visiting NY Yankees, 6-0, amid more griping about his handling of the bullpen. Mind you, after 77 games last season, the Phils were sporting a 26-51 record.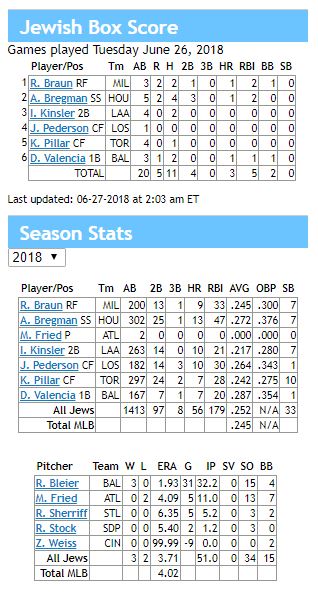 Ron Kaplan (@RonKaplanNJ) hosts Kaplan's Korner, a blog about Jews and sports. He is the author of three books, including The Jewish Olympics: The History of the Maccabiah Games and Hank Greenberg in 1938: Hatred and Home Runs in the Shadow of War.
# # #
Get your Jewish Baseball News updates via e-mail