By Ron Kaplan, contributor
Alex Bregman hit his 12th homer (seventh in June) — a solo shot in the third inning — but the Houston Astros (52-28) lost to the visiting Toronto Blue Jays (37-41), 6-3. The home run tied the game at 2-2. Bregman, who also stole his seventh base, added an RBI single the next inning to temporarily give Houston the lead.
On the other side of the diamond, Kevin Pillar came on in the ninth for the Jays as a defensive replacement in right field. (Here's something you don't see every day from that game.)
Danny Valencia grounded out as a pinch-hitter in the seventh inning and remained in the game at third as the Baltimore Orioles (23-52) lost to the visiting Seattle Mariners, 5-3. According to one columnist, Valencia's trade value is rising.
Ian Kinsler was 0-for-4 as the LA Angels (41-38) were shut out by the host KC Royals, 2-0.
Robert Stock's second outing for the San Diego Padres (35-46) wasn't as good as his debut the precious day: 0.2 innings, one run on three hits with one strikeout. The Padres lost to the host Texas Rangers, 7-4.
Joc Pederson was hitless in four at-bats, striking out twice, as the LA Dodgers (42-35) held off the visiting Chicago Cubs, 2-1.
Gabe Kapler's Philadelphia Phillies (41-35) lost to the visiting NY Yankees, 4-2.
Finally…I don't usually follow former JMLs, but I was saddened to hear that Craig Breslow, who's down in AA with the Blue Jays' New Hampshire Fisher Cats, has been on the disabled list for most of the season, only being recently reactivated on the 23rd. I fear the end may be near for the 37-year-old Yalie.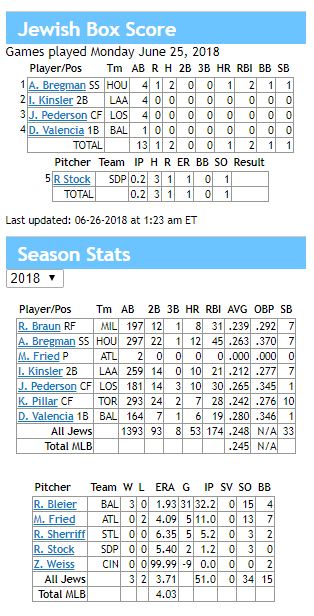 Ron Kaplan (@RonKaplanNJ) hosts Kaplan's Korner, a blog about Jews and sports. He is the author of three books, including The Jewish Olympics: The History of the Maccabiah Games and Hank Greenberg in 1938: Hatred and Home Runs in the Shadow of War.
# # #
Get your Jewish Baseball News updates via e-mail