By Ron Kaplan, contributor
Alex Bregman does it again! He had just one hit in five at-bats on Monday, but he made it count. Bregman's two-run, walk-off double (#22) with one out in the bottom of the ninth gave the Houston Astros (49-25) their 12th straight win, a come-from-behind, 5-4 decision over the visiting Tampa Bay Rays.
Ian Kinsler had a single and his 14th double in five at-bats, but the LA Angels (38-35) lost to the visiting Arizona Diamondbacks, 7-4.
The Milwaukee Brewers (42-30) managed just two hits in their 1-0 loss to the host Pittsburgh Pirates, and neither of them were by Ryan Braun, who was o-for-4 with two strikeouts. Braun recently became just the 24th player in MLB history to amass 300 home runs and 200 stolen bases; Ian Kinsler has 232 steals but trails with 243 homers.
Gabe Kapler's Philadelphia Phillies (38-32) beat the visiting St. Louis Cardinals, 6-5, in 10 innings.
The game between Joc Pederson's LA Dodger and the host Chicago Cubs was postponed by weather.
Kevin Pillar and the Toronto Blue Jays had the day off, as did Danny Valencia and the Baltimore Orioles.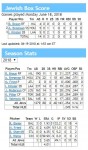 Ron Kaplan (@RonKaplanNJ) hosts Kaplan's Korner, a blog about Jews and sports. He is the author of three books, including The Jewish Olympics: The History of the Maccabiah Games and Hank Greenberg in 1938: Hatred and Home Runs in the Shadow of War.
# # #
Get your Jewish Baseball News updates via e-mail