June 13, 2018 (Wednesday)
By Ron Kaplan, contributor
Where have all the home runs gone? Long time asking. After Friday's glut, only one.
On Tuesday, Joc Pederson blasted his 7th home run in the month of June, 5th in his last seven games, and eighth overall.  This time it was a two-run, two-out job off the Ageless Wonder, Bartolo Colon, in the second inning. The LA Dodgers beat the visiting Texas Rangers, 12-5. Pederson, batting eighth in the lineup, also cracked two doubles and scored an additional run.
Danny Valencia — batting cleanup and playing third — was 1-for-4 with a run scored and an RBI as the Baltimore Orioles (19-47) lost to the visiting Boston Red Sox, 6-4. Richard Bleier — dubbed Baltimore's "unsung hero" by ESPN.com's Craig Edwards — did not appear in the game for Baltimore. Here's what Edwards had to say:
The Orioles lefty is putting up a line from the dead ball era: an 11.5 percent strikeout rate, a 3 percent walk rate and no homers allowed in 32 innings. Not much is going right for the O's this season, but the bullpen has been decent, and Bleier has played a big role.
Alex Bregman was 1-for-4 with a walk as the Houston Astros (43-25) beat the host Oakland A's, 6-3.
Kevin Pillar had one of the Toronto Blue Jays' (30-37) five hits in a 4-1 loss to the host Tampa Bay Rays.
Ian Kinsler was 0-for-4 with a walk, a run, and his 7th stolen base as the LA Angels (37-31) fell to the host Seattle Mariners, 6-3.
Ryan Braun did not appear for the Milwaukee Brewers (40-27) in their 4-0 shutout of the visiting Chicago Cubs. Just a day of rest.
Gabe Kapler's Philadelphia Phillies beat the visiting Colorado Rockies, 5-4.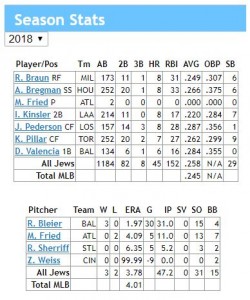 Ron Kaplan (@RonKaplanNJ) hosts Kaplan's Korner, a blog about Jews and sports. He is the author of three books, including The Jewish Olympics: The History of the Maccabiah Games and Hank Greenberg in 1938: Hatred and Home Runs in the Shadow of War.
# # #
Get your Jewish Baseball News updates via e-mail