By Ron Kaplan, contributor
Danny Valencia returned to action after missing Sunday's game because of illness. His double (#6) in five at-bats was one of five hits for the Baltimore Orioles (19-46) in a 2-0, 12-inning loss to the visiting Boston Red Sox. Richard Bleier struck out two in a scoreless ninth to lower his ERA to 1.97.
Ryan Braun was 1-for-4 with a walk as the Milwaukee Brewers fell out of a first-place tie due to a  7-2 loss to the visiting Chicago Cubs. More important were the two great defensive plays he made.
Kevin Pillar was 0-for-4 as the Toronto Blue Jays (30-36) fell to the host Tampa Bay Rays, 8-4.
Ian Kinsler was hitless in five trips to the plate as the LA Angels (37-30) lost to the host Seattle Mariners, 5-3.
Alex Bregman, Joc Pederson, Gabe Kapler and their respective teams had the day off.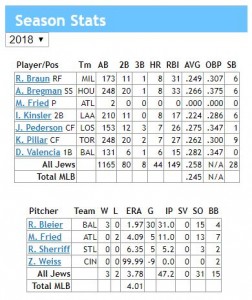 Ron Kaplan (@RonKaplanNJ) hosts Kaplan's Korner, a blog about Jews and sports. He is the author of three books, including The Jewish Olympics: The History of the Maccabiah Games and Hank Greenberg in 1938: Hatred and Home Runs in the Shadow of War.
# # #
Get your Jewish Baseball News updates via e-mail