July 11, 2018 (Wednesday)
By Ron Kaplan, contributor
Welcome Ty Kelly, the "newest" Jewish major-leaguer.
Kelly — who played for Team Israel in the most recent World Baseball Classic — was called up by the NY Mets on July 9 for their doubleheader against the Philadelphia Phillies (50-39).
You can read more about Kelly's story in this Jewish Baseball News article.
Kelly entered the first game as a defensive replacement at third base in a double switch, going 0-for-2 as the Mets (36-52) beat Philadelphia, 5-4, in 10 innings, on another walk-off home run by Wilmer Flores, 5-4. Kelly was also a double-switched defensive replacement in the nightcap, hitless in one at-bat, as the Mets lost 3-1. Both teams managed just two hits apiece, but one of them was a bases-clearing double by Phillies pitcher Aaron Nola.
Speaking of the Phillies, MLB.com says rookie manager Gabe Kapler is doing so well that it's "practically Christmas in July for Phillies fans." Or Chanukah, you might say.
Danny Valencia's three-run homer was the game-winner as the Baltimore Orioles beat the visiting NY Yankees, 5-4, in the first game of their doubleheader. It was his ninth round-tripper of the year and his sole hit in three at-bats, breaking an 0-for-23 skid as well as the O's six-game losing streak.
Valencia was 0-for-4 in the second game, a 10-2 loss for Baltimore (25-66).
Joc Pederson was 0-for-5 with an RBI as the LA Dodgers (49-41) beat the host San Diego Padres, 8-2.
Alex Bregman had one of the Houston Astros' (61-32) five hits in their 2-0 loss to the visiting Oakland A's. Mazel tov is in order as he was named to his first All-Star team, as a reserve. He is the only JML — at this point — to be named an All-Star in 2018.
Everyone else either had the day off or is on the DL.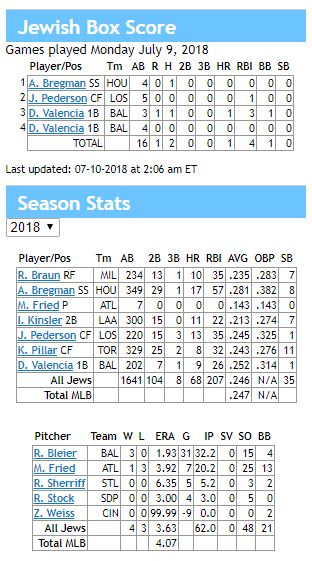 Ron Kaplan (@RonKaplanNJ) hosts Kaplan's Korner, a blog about Jews and sports. He is the author of three books, including The Jewish Olympics: The History of the Maccabiah Games and Hank Greenberg in 1938: Hatred and Home Runs in the Shadow of War.
# # #
Get your Jewish Baseball News updates via e-mail