By Ron Kaplan, contributor
Atlanta Braves  (49-37) starter Max Fried didn't fare as well as in his prior outing, giving up four runs on four hits and three walks over four innings and taking the 7-2 loss against the host Milwaukee Brewers (52-35) in a battle of first-place teams. He struck out one and unleashed a wild pitch. Blisters are the culprit here, according to the Atlanta Journal-Constitution, and have landed Fried on the 10-day disabled list. At least Fried retired Ryan Braun, who was 0-for-4.
Danny Valencia also was 0-for-4 as the Baltimore Orioles (24-62) lost to the host Minnesota Twins, 5-2.
Alex Bregman — the A.L. Player of the Month for June — hit his 28th double (second in the AL) in four at-bats. He also scored a run as the Houston Astros (58-31) plated two in the bottom of the ninth for a 4-3 win over the visiting Chicago White Sox.
Ian Kinsler was 1-for-4 and scored the only run for the LA Angels (44-44) in their 4-1 loss to the host Seattle Mariners.
Robert Stock, who was optioned to Triple-A on July 6, did not appear for the San Diego Padres (38-51) in their 6-3 win over the host Arizona Diamondbacks.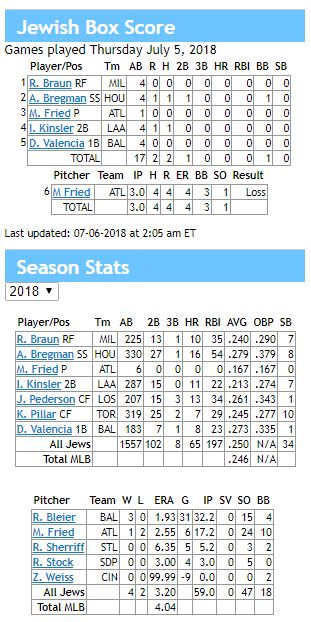 Ron Kaplan (@RonKaplanNJ) hosts Kaplan's Korner, a blog about Jews and sports. He is the author of three books, including The Jewish Olympics: The History of the Maccabiah Games and Hank Greenberg in 1938: Hatred and Home Runs in the Shadow of War.
# # #
Get your Jewish Baseball News updates via e-mail