August 1, 2018 (Wednesday)
By Ron Kaplan, contributor
In his first game for the Boston Red Sox (75-34), Ian Kinsler was 1-for-4 in a 3-1 loss to Gabe Kapler's Philadelphia Phillies (59-48). By the way, a belated happy birthday to Kapler, who turned 43 yesterday.
Alex Bregman, playing shortstop, was 3-for-5 with a double and a run scored as the Houston Astros (68-41) beat the host Seattle Mariners, 5-3. His 34 doubles are tied for #2 in the American League.
Robert Stock allowed two hits and walked a batter in his one inning of relief but escaped without allowing a run as the San Diego Padres (42-68) lost to the visiting San Francisco Giants, 3-2, in 10 innings. It was his first MLB walk in 11.2 innings, during which he has struck out 15.
Ryan Braun singled as a pinch-hitter in the eighth for the Milwaukee Brewers (63-47), who made one run stand up in a 1-0 win over the host LA Dodgers (59-49). Joc Pederson appeared as a pinch-hitter in the same inning but popped out.
Danny Valencia did not appear for the Baltimore Orioles (32-75) in their 6-3 loss to the host NY Yankees.
Max Fried did not appear for the Atlanta Braves (57-47) in their 11-6 win over the visiting Florida Marlins.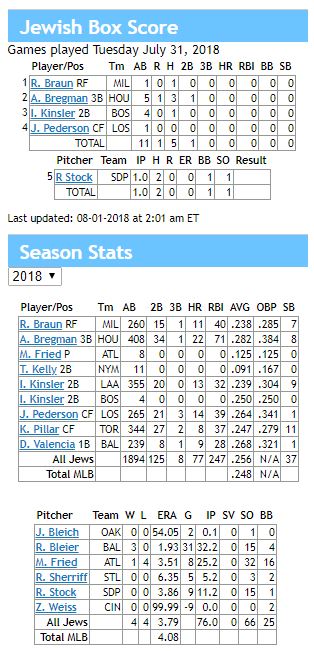 # # #
Ron Kaplan (@RonKaplanNJ) hosts Kaplan's Korner, a blog about Jews and sports. He is the author of three books, including The Jewish Olympics: The History of the Maccabiah Games and Hank Greenberg in 1938: Hatred and Home Runs in the Shadow of War.
Get your Jewish Baseball News updates via e-mail