By Ron Kaplan, contributor
Remember when they used to have holiday doubleheaders? Two of the first games I ever went to were comprised of a July 4 twinbill at Yankee Stadium against the Cleveland Indians. This was a reward for perfect attendance at Hebrew school at the Woodruff Avenue Temple in Brooklyn, so I must have been 11 or 12. The seats were in the bleachers, next to the visiting bullpen. I recall one of their pitchers, maybe it was Mike Paul, making faces at us. Anyway…
And again. Joc Pederson led off Tuesday's game for the LA Dodgers  (46-39) by hitting the first pitch he saw for his 13th home run of the year and second of this young month. The Dodgers beat the visiting Pittsburgh Pirates, 8-3. According to those new-fangled stats, it was the hardest home run hit by a Dodger since 2015 and traveled an estimated 437-feet.
Alex Bregman was 2-for-5 with a run scored as the Houston Astros (56-31) beat the host Texas Rangers, 5-3. Is an All-Star Game in his immediate future? After all, he was named AL Player of the Month for June.
Kevin Pillar was 0-for-4 for the Toronto Blue Jays (40-45), who overcame a 6-1 deficit to beat the visiting NY Mets, 8-6.
Ian Kinsler was 0-for-3, batting in the seventh slot, as the LA Angels (43-43) lost to the host Seattle Mariners, 4-1.
Ryan Braun struck out twice in three at bats against the visiting Minnesota Twins before coming out in the sixth with lower back tightness…again. The Milwaukee Brewers (50-35) won the game, 2-0.
Gabe Kapler's Philadelphia Phillies (46-37) beat the Baltimore Orioles (24-60), 3-2. Danny Valencia struck out as a pinch-hitter in the eighth.
Max Fried did not appear for the Atlanta Braves (49-35) in their 8-5 loss to the host NY Yankees. He takes the hill tomorrow against the Brewers in Milwaukee.
Robert Stock did not appear for the San Diego Padres in their 6-2 loss to the host Oakland A's.
Getting closer: Craig Breslow was promoted to Toronto's AAA affiliate.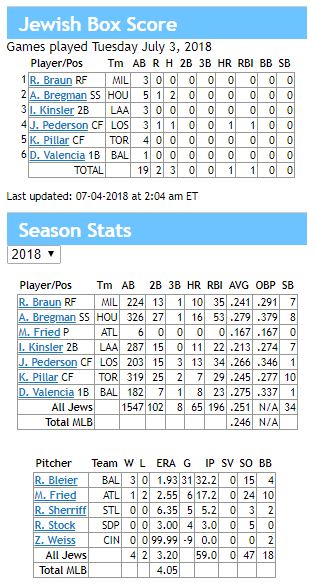 Ron Kaplan (@RonKaplanNJ) hosts Kaplan's Korner, a blog about Jews and sports. He is the author of three books, including The Jewish Olympics: The History of the Maccabiah Games and Hank Greenberg in 1938: Hatred and Home Runs in the Shadow of War.
# # #
Get your Jewish Baseball News updates via e-mail