By Ron Kaplan, contributor
Apologies for no weekend update.
In last night's action…
Joc Pederson hit his 14th home run of the year to help the visiting LA Dodgers (56-44) withstand Gabe Kapler's  Philadelphia Phillies (55-44), 7-6. The blast — his first since July 3 — came in the fourth inning with the bases empty. As the saying goes, it got out of there in a hurry. Pederson also had a single and a walk and scored another run.
Ty Kelly failed to get a pinch-hit sacrifice bunt down — popping out to the catcher — in the bottom of the ninth with a runner on first as the NY Mets (40-57) lost to the visiting San Diego Padres, 3-2.
The Padres brought back pitcher Robert Stock from AAA on Friday, but he might be going right back down. He allowed four runs on six hits and struck out one in just two-thirds of an inning in the Padres' 11-5 loss to the Phillies that night.
The Milwaukee Brewers (57-45) activated Ryan Braun from the DL on July 21. He was 0-for-4 batting out of the cleanup spot and played first base in last night's 6-1 win over the visiting Washington Nationals. Braun has one hit in 11 at-bats since his return.
Ian Kinsler was 0-for-3 with a walk as the host LA Angels (50-51) lost to the Chicago White Sox, 5-3.
Danny Valencia did not appear for the Baltimore Orioles (28-73) in their 5-3 loss to the visiting Boston Red Sox. Bear in mind he might not be with them much longer as the trading deadline looms. Reliever Richard Bleier remains out for the year following lat surgery.
Max Fried did not appear for the Atlanta Braves (54-43) in their 12-1 win over the host Miami Marlins, but he was dominant in a Double-A rehab game yesterday, pitching 6.2 scoreless innings in which he gave up just one hit and one walk while striking out 10.
No game for Alex Bregman and the Houston Astros yesterday. But be sure to check out this article on his growing excellence and pursuit of perfection.
Kevin Pillar remains on the DL for the Toronto Blue Jays (46-53), who lost to the visiting Minnesota Twins, 8-3.
The Oakland As sent pitcher Jeremy Bleich back to the AAA Nashville Sounds on Sunday.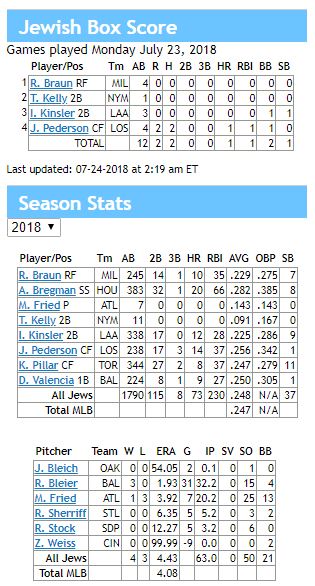 Ron Kaplan (@RonKaplanNJ) hosts Kaplan's Korner, a blog about Jews and sports. He is the author of three books, including The Jewish Olympics: The History of the Maccabiah Games and Hank Greenberg in 1938: Hatred and Home Runs in the Shadow of War.
# # #
Get your Jewish Baseball News updates via e-mail