By Ron Kaplan, contributor
Joc Pederson played a big role in the LA Dodgers' (51-42) 3-2 win over the San Diego Padres. In addition to breaking up a no-hit bid by Padres pitcher Tyson Rosson in the sixth inning with his 16th double, Pederson's RBI single in the seventh gave LA its margin of victory.
Ian Kinsler was 3-for-5 and drove in three runs for the host LA Angels (48-46) in their 11-2 win over the Seattle Mariners.
Alex Bregman hit a 2-run double for the Houston Astros (62-34), but it wasn't enough to prevent them from losing 6-4 to the visiting Oakland A's. The double — Bregman's 30th, #2 in the A.L. — was his only hit in four at-bats.
Kevin Pillar was 0-for-4 as the Toronto Blue Jays lost to the host Boston Red Sox, 6-4. It was the 10th win in a row for the Sox and gave them 66 wins, an MLB record for most Ws prior to an All-Star break.
Danny Valencia did not appear for the Baltimore Orioles (26-68) in their 5-4 loss to Gabe Kapler's Philadelphia Phillies (52-40).
Heading out to New Mexico for a little vacation.
Because it's not hot enough in New Jersey.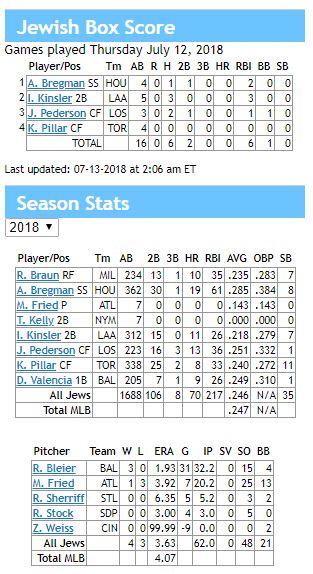 Ron Kaplan (@RonKaplanNJ) hosts Kaplan's Korner, a blog about Jews and sports. He is the author of three books, including The Jewish Olympics: The History of the Maccabiah Games and Hank Greenberg in 1938: Hatred and Home Runs in the Shadow of War.
# # #
Get your Jewish Baseball News updates via e-mail