By Ron Kaplan, contributor
Danny Valencia struck out twice in three at-bats as the Baltimore Orioles (26-67) were skunked by the visiting NY Yankees, 9-0.
Ty Kelly did not appear for the NY Mets (37-53)  in their 3-0, 10-inning, walk-off win — courtesy of a pinch-hit home run by Brandon Nimmo — over the visiting Philadelphia Phillies (51-40), managed by Gabe Kapler.
Fun fact: this was the first time in five years that the Yankees and Mets both won shutouts on the same day.
Kevin Pillar grounded out as a pinch-hitter in the seventh inning and remained in the game in center field as the Toronto Blue Jays (42-49) lost to the host Atlanta Braves (51-40), 9-2.
Ian Kinsler was 0-for-2 and was hit by a pitch as the LA Angels (47-46) lost to the visiting Seattle Mariners, 3-0.
Joc Pederson appeared only as a defensive replacement for the LA Dodgers (50-42) in their 4-2 win over the host San Diego Padres.
Alex Bregman was 2-for-4 with a run scored, but the Houston Astros (62-33) lost to the visiting Oakland A's, 8-2. Bregman — who has hit 11 HRs in his last 24 games — has been named as one of the contestants in the Home Run Derby at the upcoming MLB All-Star Game. Let's hope he doesn't have HR fatigue, as has happened to numerous hitters before. Although he does have some experience in events like this:
On the DL: Richard Bleier, (Orioles), Ryan Braun (Milwaukee Brewers), Ryan Sherriff (St. Louis Cardinals) and Max Fried (Braves).
Just remembered: Robert Stock was demoted by the Padres, but I did a story about him and his brother when they were both members of the NJ Jackals a couple of years ago.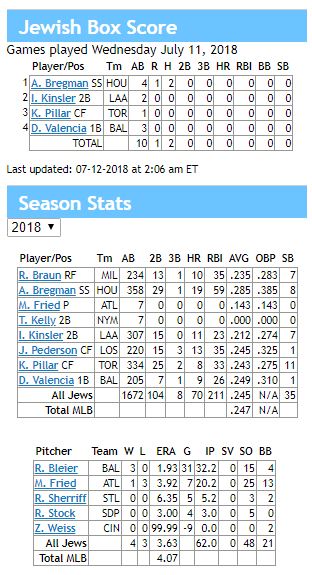 Ron Kaplan (@RonKaplanNJ) hosts Kaplan's Korner, a blog about Jews and sports. He is the author of three books, including The Jewish Olympics: The History of the Maccabiah Games and Hank Greenberg in 1938: Hatred and Home Runs in the Shadow of War.
# # #
Get your Jewish Baseball News updates via e-mail