July 11, 2018 (Wednesday)
By Ron Kaplan, contributor
All-Star reserve Alex Bregman hit two solo homers on July 10 as the Houston Astros (62-32) beat the visiting Oakland A's, 6-5, in 11 innings. It was the first multi-homer game of his young MLB career.
Bregman also was at the plate when the Astros scored the winning run in a most bizarre fashion:
Kevin Pillar was 1-for-4 with an RBI and a run as the Toronto Blue Jays (42-48) beat the host Atlanta Braves (50-40), 6-2. Max Fried, on the disabled list with a finger blister, did not appear for the Braves.
Ian Kinsler was 1-for-5 with an RBI as the LA Angels (47-45) beat the visiting Seattle Mariners, 9-3.
Ty Kelly was 0-for-4 as the starting left fielder for the NY Mets (36-53) in their 7-3 loss to Gabe Kapler's visiting Philadelphia Phillies (51-39).
Danny Valencia did not appear for the Baltimore Orioles in their 6-5, walk-off win over the visiting NY Yankees.
Joc Pederson did not appear for the LA Dodgers (49-42) in their 4-1 loss to the host San Diego Padres.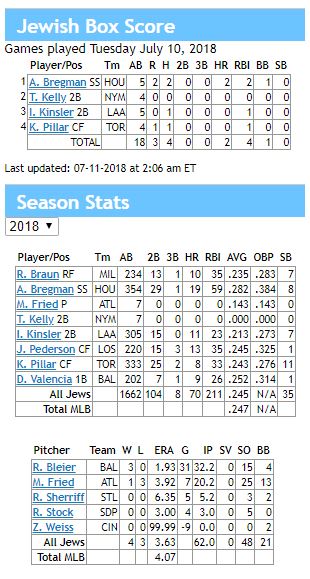 Ron Kaplan (@RonKaplanNJ) hosts Kaplan's Korner, a blog about Jews and sports. He is the author of three books, including The Jewish Olympics: The History of the Maccabiah Games and Hank Greenberg in 1938: Hatred and Home Runs in the Shadow of War.
# # #
Get your Jewish Baseball News updates via e-mail