August 16, 2018 (Thursday)
By Ron Kaplan, contributor
Here we go again. Just when things were looking up for him, the Milwaukee Brewers' Ryan Braun had to leave Wednesday's 8-4 loss to the visiting Chicago Cubs in the fifth inning after injury his rib cage on this play. He was 0-for-2 before coming out for a pinch hitter in the fifth.
I wouldn't be totally shocked if Braun was DL- bound…again. In the meantime, this food for thought: should the Brewers (68-55) retire his number 8 when the time comes? Personally, I think that's a tad premature.
Alex Bregman hit his 38th double in four at-bats, scoring one run and driving in another on a sacrifice fly as the Houston Astros (74-47) beat up the visiting  Colorado Rockies, 12-1. With 74 ribbies, he has a legitimate shot at 100.
Kevin Pillar was 2-for-3 with two runs scored, a walk, and drove in the first two runs — one in the second inning and another in the fourth — as the Toronto Blue Jays (55-65) beat the host KC Royals, 6-5. Hard to believe, but Pillar is currently the longest-serving player on his team.
Joc Pederson drove in a run the first fun of the game on a pinch-hit sacrifice fly in the sixth inning as the LA Dodgers beat the visiting San Fransisco Giants, 4-3, in 12 innings.
Gabe Kapler's Philadelphia Phillies (66-53) beat the visiting Boston Red Sox (86-36), 7-4. Look for the Sox to activate Ian Kinsler from the DL tomorrow.
Robert Stock did not appear for the San Diego Padres (48-75) in their 3-2 loss to the visiting LA Angels.
Five days after designating him for assignment, the Baltimore Orioles released Danny Valencia, making him a free agent. At least two sources suggest the Yankees should snatch him up quickly.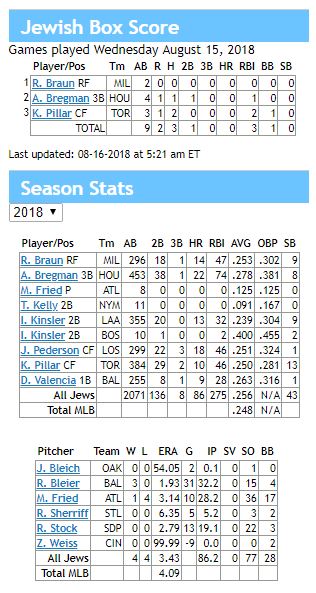 # # #
Ron Kaplan (@RonKaplanNJ) hosts Kaplan's Korner, a blog about Jews and sports. He is the author of three books, including The Jewish Olympics: The History of the Maccabiah Games and Hank Greenberg in 1938: Hatred and Home Runs in the Shadow of War.
Get your Jewish Baseball News updates via e-mail