August 15, 2018 (Wednesday)
By Ron Kaplan, contributor
Unfortunately, these things are getting easier between the MOTs designated for assignment (Ty Kelly, Danny Valencia) and the disabled list (Ian Kinsler, Max Fried, Richard Bleier, Ryan Sherriff).
Braun bops! Ryan Braun hit two home runs in his first two at-bats to help the Milwaukee Brewers (68-54) beat the host Chicago Cubs, 7-0, on Tuesday. The initial blast came in the first with a runner on. The next — a 443-foot bomb that gave Braun 14 on the year and 35 at Wrigley over his career — came in the third, also with one on.
Kevin Pillar hit a two-run homer in the eighth inning that gave the Toronto Blue Jays (54-65) a come-from-behind 6-5 win over the host Kansas City Royals. The dinger was Pillar's 10th, making him the fifth Jewish player to reach double-digits this season. He also had a two- RBI single in the third.
Alex Bregman was 0-for-3 with a walk as the Houston Astros (73-47) continued to sputter, losing to the visiting Colorado Rockies, 5-1.
Robert Stock gave up an unearned run on one hit, a walk, and a strikeout in two innings as the San Diego Padres (48-74) lost to the visiting LA Angels, 7-3.
Joc Pederson came on as a defensive replacement and was 0-for-1 one as the LA Dodgers (64-57) were edged, 2-1, by the visiting San Francisco Giants.
Gabe Kapler's Philadelphia Phillies (65-53) lost to the visiting Boston Red Sox, 2-1, after shaking up the lineup a bit.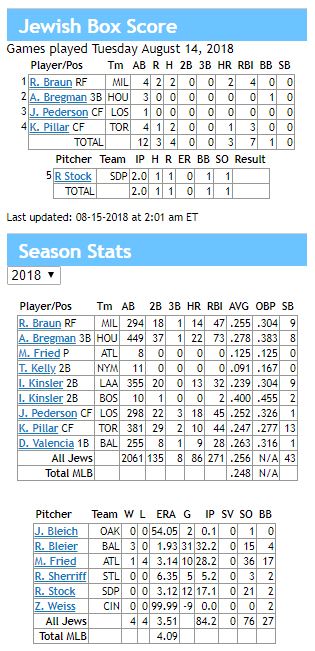 # # #
Ron Kaplan (@RonKaplanNJ) hosts Kaplan's Korner, a blog about Jews and sports. He is the author of three books, including The Jewish Olympics: The History of the Maccabiah Games and Hank Greenberg in 1938: Hatred and Home Runs in the Shadow of War.
Get your Jewish Baseball News updates via e-mail