By Ron Kaplan, contributor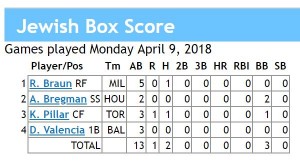 Ryan Braun was 1-for-5 as the Milwaukee Brewers beat the host St. Louis Cardinals, 5-4, in 10 innings. He also tossed out a hitter trying to stretch a double into a triple (see below). According to ShepherdExpress.com, "Braun needs five more runs batted in to become the 285th player in MLB history, the ninth active player and just the second Brewer with 1,000 in their careers (Robin Yount had 1,406)."
Ryan Sherriff is on the DL for the Cards with a fractured toe.
Kevin Pillar was 1-for-3 with a walk and a run scored as the Toronto Blue Jays (7-4) defeated the host Baltimore Orioles, 7-1. Danny Valencia was 0-for-3 as the DH for the Orioles and came out for a pinch-hitter in the eighth. Richard Bleier did not pitch for the O's (4-7).
Alex Bregman was 0-for-2 with two walks for the Houston Astros (9-2) in their 2-0 blanking of the host Minnesota Twins.
Joc Pederson and the LA Dodgers (3-6) were off.
Gabe Kapler's Philadelphia Phillies (4-5) outlasted the visiting Cincinnati Reds, 6-5.
Ian Kinsler was eligible to come off the DL for the LA Angels (8-3) today, but that might not happen.
Ron Kaplan (@RonKaplanNJ) hosts Kaplan's Korner, a blog about Jews and sports. He is the author of three books, including The Jewish Olympics: The History of the Maccabiah Games and Hank Greenberg in 1938: Hatred and Home Runs in the Shadow of War.
# # #
Get your Jewish Baseball News updates via e-mail