By Ron Kaplan, contributor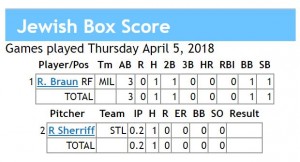 Ryan Braun had his first double and first stolen base of the season as the Milwaukee Brewers (4-3) lost to the visiting Chicago Cubs, 8-0. He basically walked to second against Jon Lester, who is notoriously bad at holding runners on. But when Braun tried stealing third, Lester threw a well-practiced bounce pass to retire him.
Ryan Sherriff allowed one hit in 0.2 innings as the St. Louis Cardinals (3-4) lost to the visiting Arizona Diamondbacks, 3-1.
Neither Richard Bleier nor Danny Valencia appeared for the Baltimore Orioles (2-5), who ruined the Yankees' home opener with a 5-2 win.
Maybe that will shut them up (for the moment): Gabe Kapler's Philadelphia Phillies won their home opener, shutting out the Miami Marlins, 5-0. (See his post-game interview, below.)
No games for the LA Dodgers (Joc Pederson), LA Angels (Ian Kinsler), Toronto Blue Jays (Kevin Pillar), or Houston Astros (Alex Bregman).
Best wishes to former Major Leaguer (and hero of Team Israel's 2017 World Baseball Classic run) Josh Zeid, who announced his retirement from baseball.
Ron Kaplan (@RonKaplanNJ) hosts Kaplan's Korner, a blog about Jews and sports. He is the author of three books, including The Jewish Olympics: The History of the Maccabiah Games and Hank Greenberg in 1938: Hatred and Home Runs in the Shadow of War.
# # #
Get your Jewish Baseball News updates via e-mail