By Ron Kaplan, contributor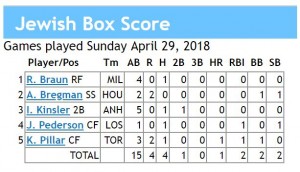 MOT of the weekend honors goes to Kevin Pillar of the Toronto Blue Jays  (15-12, third place, AL East), who had another great series. On Friday, he doubled (#9) and tripled (#1) in four at-bats, driving in a run in a 6-4 loss. The next day he hit two solo homers in another loss, this time by a score of 9-4. Even when he made an out he hit the ball hard, as evidenced in this play (see below) when he lined a shot back to the box that was snared by the ageless wonder, pitcher Bartolo Colon, in the sixth inning. In a fluff piece hyping the release of the new Marvel movie,  Avengers: Infinity Wars, MLB.com compared Pillar with Spider-Man.
On Sunday, Pillar hit another home run (#4) as the Jays beat the Rangers, 7-2. This one also came with no one on base. Pillar was 1-for-3 with a walk and two runs scored.
Ryan Braun, Milwaukee Brewers (16-13, fourth place, NL Central) @ Chicago Cubs: On Friday, Braun flied out as a pinch-hitter and remained in the game in left, going 0-for-1 in a subsequent at-bat in a 3-2 loss. He was 0-for-4 as the starting left-fielder in a 3-0 loss on Saturday. Yesterday, he had a single in four trips to the plate as the Cubs swept the series, 2-0.
Alex Bregman, Houston Astros (19-10, first place AL West) vs. Oakland A's: Bregman was o-for-3 with a walk in Friday's 8-1 loss. He had a single and a double to go with two walks in five plate appearances in Saturday's 11-0 win. Yesterday, Bregman went 0-for-2 with a walk, a hit-by-pitcher, a stolen base and two runs scored in an 8-4 win.
Ian Kinsler, LA Angels (16-12, third place, AL West) vs. NY Yankees: Kinsler was 0-for-3 with a walk in Friday's 4-3, 10-inning loss. He was 1-for-4 on Saturday, an 11-1 drubbing. Yesterday, the Angels let the Yankees extend their winning streak to nine games with a 2-1 loss.  Kinsler was 1-for-5 with his first double of the year.
Joc Pederson, LA Dodgers (12-15, fourth place, NL West) @ San Francisco Giants: Pederson entered Friday's game as a defensive replacement for Matt Kemp in the fourth inning and singled and walked in three plate appearances in a 6-4 loss. He had his best game of the year on Saturday in the first game of a double-header when he had four singles and a walk in six trips to the plate, driving in four runs in a 15-6 win. It was the first four-hit game of his major league career. Pederson was 0-for-2 with a walk and a run scored in the nightcap, an 8-5 loss. He capped off his weekend with a pinch-hit RBI single in the seventh in a 4-2 loss. Pederson is quietly putting together a very solid season, hitting .286 with a Jewish-best .403 on-base percentage and more walks (11) than strikeouts (9).
Speaking of Pederson, MLB.com said he has the "best player name" on the Dodgers: "If you added a "K" to Pederson's first name, it wouldn't work: He'd have to play football or be a wrestler. Losing the K makes him a baseball man."
Richard Bleier, Baltimore Orioles (8-20, fifth place, AL East) vs. Detroit Tigers: Bleier pitched another perfect inning in a 6-0 victory on Friday, his only appearance in the series. He is 2-0 with a 0.54 ERA.
Danny Valencia, Orioles: Valencia was 1-for-4 with a run scored on Friday. He was 2-for-4 the next day in a 9-5 loss. He did not appear on Sunday's game, a 5-3 win, due to a hamstring issue.
Max Fried, Atlanta Braves (16-11, tied second place, NL East) @ Gabe Kapler's Philadelphia Phillies (16-11, tied second place, NL East): Fried was pressed into service on Friday when starter Julio Tehran had to exit the game with a back injury. Fried pitched pretty well, allowing one run on two hits (one of which was a home run) and a walk in three innings while striking out three, but he was nevertheless saddled with the 7-3. He was also 0-for-1 at the plate.
Ryan Sherriff of the St. Louis Cardinals (15-12, third place, NL Central), who has been on the disabled list, is doing a rehab stint with the franchise's Triple-A club.
Finally: Hey, kids, do you know what day it is? That's right; it's National Bugs Bunny Day (kids, ask your grandparents.)
Ron Kaplan (@RonKaplanNJ) hosts Kaplan's Korner, a blog about Jews and sports. He is the author of three books, including The Jewish Olympics: The History of the Maccabiah Games and Hank Greenberg in 1938: Hatred and Home Runs in the Shadow of War.
# # #
Get your Jewish Baseball News updates via e-mail