April 28, 2018 (Saturday)
By Ron Kaplan, contributor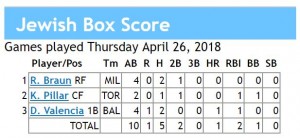 Danny Valencia — batting seventh and playing third base — was 2-for-4 and hit his third home run, but the Baltimore Orioles (6-19) lost to the visiting Tampa Bay Rays, 9-5. Richard Bleier did not appear for the O's.
Kevin Pillar walked, doubled, and had a sacrifice fly in four plate appearances as the Toronto Blue Jays (14-10) lost to the visiting Boston Red Sox, 5-4.
Ryan Braun had a single and double in four at-bats, but the Milwaukee Brewers (16-10) lost a pitchers' duel to the host Chicago Cubs, 1-0. He also made this nice play at his new position, first base:
Max Fried did not pitch for the Atlanta Braves (14-10) in their 7-4 win over the host Cincinnati Reds.
Gabe Kapler's Philadelphia Phillies (15-9) lost to the visiting Arizona Diamondbacks, 8-2.
The rest of the teams with MOTs had the day off.
Ron Kaplan (@RonKaplanNJ) hosts Kaplan's Korner, a blog about Jews and sports. He is the author of three books, including The Jewish Olympics: The History of the Maccabiah Games and Hank Greenberg in 1938: Hatred and Home Runs in the Shadow of War.
# # #
Get your Jewish Baseball News updates via e-mail