By Ron Kaplan, contributor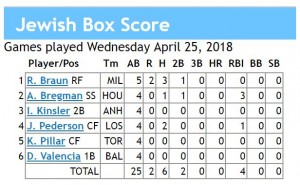 Jew vs. Jew: Alex Bregman had a bases-clearing double (see video below) in the fourth inning to give the Houston Astros (17-9) a 3-0 lead and all the runs they would need in a 5-2 win over the visiting LA Angels (16-9). Ian Kinsler was 0-for-4 in the losing cause.
Ryan Braun shows signs of coming out of his April doldrums, going 3-for-5 with a double and two runs scored as the Milwaukee Brewers (16-9) beat the host KC Royals, 6-2. He is 5-for-8 in his last two games.
Joc Pederson was 2-for-4 with an RBI single in the sixth to give the LA Dodgers their first run, but they ended up losing to the visiting Miami Marlins, 8-6. The Dodgers (11-12) made it interesting by scoring three runs in the bottom of the ninth, but it was too little, too late.
Kevin Pillar was 0-for-4 as the Toronto Blue Jays (14-9) fell to the visiting Boston Red Sox, 4-3.
Danny Valencia was 0-for-4 as the Baltimore Orioles (6-18) lost to the visiting Tampa Bay Rays, 8-4. Richard Bleier did not appear in the game. The oh-fer dropped Valencia's batting average to .135. I happened to turn on the MLB Network the other day when he was up with men on base and struck out on three pitches. The announcers were not very complimentary, calling him a selfish player because they thought he was hellbent on hitting a home run.
Max Fried did not appear for the Atlanta Braves (13-10) in their 5-4 win over the host Cincinnati Reds. Bob Wechsler pointed out in an e-mail:
For the first time in history, two Jewish pitchers have an ERA of infinity during the same season.

Zach Weiss gave up two walks, two homers and four earned runs without recording an out before the Reds sent him back to the minors after one game earlier this month.

Yesterday, Max Fried made his season debut for the Braves and faced two batters — a walk and a game-winning homer. At least he had a 3.81 ERA in nine games last season.

This is not good, especially following Brad Goldberg's 8.25 ERA in 11 games with last year's White Sox.
Wechsler further suggested not making a card for this in the next go-around of the Jewish Major Leaguer set.
Gabe Kapler's Philadelphia Phillies (15-8) beat the visiting Arizona Diamondbacks, 5-3.
Ron Kaplan (@RonKaplanNJ) hosts Kaplan's Korner, a blog about Jews and sports. He is the author of three books, including The Jewish Olympics: The History of the Maccabiah Games and Hank Greenberg in 1938: Hatred and Home Runs in the Shadow of War.
# # #
Get your Jewish Baseball News updates via e-mail