April 25, 2018 (Wednesday)
By Ron Kaplan, contributor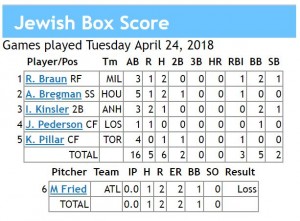 In another meeting of MOTs, Ian Kinsler was 1-for-3 for the LA Angels (16-8), who edged out the host Houston Astros, 8-7. Kinsler also walked twice and scored two runs, including the one that tied the game at 5-5 in the seventh when the Angels scored four times for an 8-5 lead. Alex Bregman brought the Astros (16-9) closer in the bottom of the frame, driving in a run on a single to make it 8-6. He also doubled (#5) and scored a run.
Ryan Braun served as DH and batted third for the Milwaukee Brewers (15-9) in their 5-2 win over the host Kansas City Royals. He was 2-for-3 with a run scored and his 15th RBI on a hard shot that bounced of the pitcher's foot.
Kevin Pillar was 1-for-4 with an RBI as the Toronto Blue Jays (14-8) beat the visiting Boston Red Sox, 4-3, on a 10th-inning, walk-off home run by Curtis Granderson.
Joc Pederson walked as a pinch-hitter in the seventh and remained in the game as the left-fielder for the LA Dodgers (12-10), going 0-for-1 in a subsequent at-bat. The Miami Marlins scored single runs in the eighth and ninth to win the game, 3-2.
Ryan Sherriff remains on the DL and so did not appear for the St. Louis Cardinals (13-9) in their 10-inning, 6-5 loss to the visiting NY Mets.
The 6-17 Baltimore Orioles ( Richard Bleier, Danny Valencia) saw their game with the Tampa Bay Rays postponed by rain.
Gabe Kapler's Philadelphia Phillies lost to the visiting Arizona Diamondbacks, 8-4.
And welcome back Max Fried. The Atlanta Braves (12-10) recalled their top lefty prospect yesterday and his impact was felt immediately. And not in a good way. Fried, who made his major league debut last year and was doing very well in AAA, entered the game against the host Cincinnati Reds in the 12th inning and walked the first batter he faced. Scooter Gennett then launched a game-winning home run. It was Gennett's second homer of the year; in fact both long balls came in this game. Final score: Reds 9, Braves 7, and an ERA of ∞ for Fried.
Ron Kaplan (@RonKaplanNJ) hosts Kaplan's Korner, a blog about Jews and sports. He is the author of three books, including The Jewish Olympics: The History of the Maccabiah Games and Hank Greenberg in 1938: Hatred and Home Runs in the Shadow of War.
# # #
Get your Jewish Baseball News updates via e-mail