By Ron Kaplan, contributor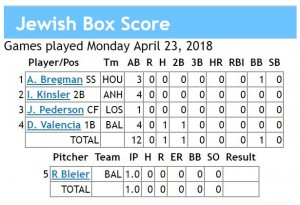 In a meeting of MOTs on first-place teams. Ian Kinsler was 0-for-4 for the LA Angels (15-8), who beat the host Houston Astros, 2-0. Alex Bregman was 0-for-3 with a walk for the 'Stros (16-8), ending his brief (five-game) hitting streak.
Richard Bleier — one of the few bright spots for a dismal franchise — tossed a perfect inning, lowering his ERA to 0.57, in another loss for the Baltimore Orioles (6-17), although it was a close one: 2-1 to the visiting Cleveland Indians. Danny Valencia started as the Orioles' third baseman, striking out three times and knocking a double in four at-bats.
Joc Pederson struck out as a pinch-hitter and remained in the game for the LA Dodgers (11-10) in their 2-1 win over the visiting Miami Marlins.
Milwaukee's Ryan Braun will be happy when April is over.
The rest of the mishpucha had the day off.
Ron Kaplan (@RonKaplanNJ) hosts Kaplan's Korner, a blog about Jews and sports. He is the author of three books, including The Jewish Olympics: The History of the Maccabiah Games and Hank Greenberg in 1938: Hatred and Home Runs in the Shadow of War.
# # #
Get your Jewish Baseball News updates via e-mail