By Ron Kaplan, contributor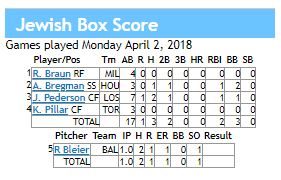 Alex Bregman had a double in three at-bats, drove in a run, and walked twice to help the Houston Astros beat the visiting Orioles, 6-1, on April 2. Baltimore reliever Richard Bleier gave up a run on two hits and struck out one in one inning. Fellow Oriole Danny Valencia did not appear in the game.
Batting in the leadoff spot and playing left field, Joc Pederson was 2-for-7 with a double, RBI and a walk, but the LA Dodgers lost to the host Arizona Diamondbacks, 8-7, in 15 innings
Ryan Braun was o-for-5 as the Milwaukee Brewers fell to the visiting St. Louis Cardinals, 8-4. Braun was in left field, batting third. Ryan Sherriff did not appear for the Cards.
Kevin Pillar (see article) was 0-for-3 as the Toronto Blue Jays beat the visiting Chicago White Sox, 4-2. Meanwhile, Toronto assigned pitcher Craig Breslow to their Double-A affiliate, the New Hampshire Fisher Cats.
Ian Kinsler remains on the disabled list for the LA Angels, who were shut out, 6-0, by the visiting Cleveland Indians.
Ron Kaplan (@RonKaplanNJ) hosts Kaplan's Korner, a blog about Jews and sports. He is the author of three books, including The Jewish Olympics: The History of the Maccabiah Games and Hank Greenberg in 1938: Hatred and Home Runs in the Shadow of War.
# # #
Get your Jewish Baseball News updates via e-mail