April 19, 2018 (Thursday)
By Ron Kaplan, contributor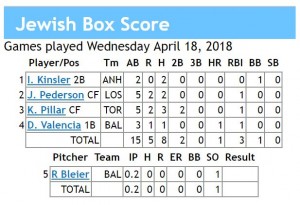 Danny Valencia, serving as the DH and batting fifth, drilled his second home run of the season, a solo shot in the second. But his Baltimore Orioles (5-13) lost again to the host Detroit Tigers, this time on a walk-off home run by Dixon Machado (his first of the year). Richard Bleier lowered his ERA to 0.71, retiring the only two batters he faced, one via strikeout.
Kevin Pillar belted two more doubles and a single in five at bats as the host Toronto Blue Jays (12-5) scored eight runs in the eighth to crush the KC Royals, 15-5. He also scored twice and drove one across the plate.
Joc Pederson started in left, batted sixth, and went 2-for-5 with two runs scored and an RBI as the LA Dodgers (8-9) beat the host San Diego Padres, 13-4. There was this little snafu in the field, however, despite a valiant and athletic effort by Joc:
Ian Kinsler had one-third of the LA Angels' six hits (he also walked) in a 9-0 loss to the visiting Boston Red Sox. The Angels are 13-5.
Ryan Braun did not appear for the Milwaukee Brewers (10-9) in their 2-0 shutout win over the visiting Cincinnati Reds. This time it was a calf injury that kept him out of the lineup. Hope this isn't going to be a pattern. Braun missed 58 games in 2017 and 29 the year before.
The Houston Astros (12-7) scored six runs in the seventh to beat the host Seattle Mariners, 7-1. They did this without the services of the struggling Alex Bregman, who was given the night off.
Ryan Sherriff remains on the DL for the St. Louis Cardinals (10-7), who saw their game with the host Chicago Cubs postponed by weather. This is getting monotonous.
Gabe Kapler's Philadelphia Phillies (10-7) lost to the host Atlanta Braves, 7-3.
Ron Kaplan (@RonKaplanNJ) hosts Kaplan's Korner, a blog about Jews and sports. He is the author of three books, including The Jewish Olympics: The History of the Maccabiah Games and Hank Greenberg in 1938: Hatred and Home Runs in the Shadow of War.
# # #
Get your Jewish Baseball News updates via e-mail