April 18, 2018 (Wednesday)
By Ron Kaplan, contributor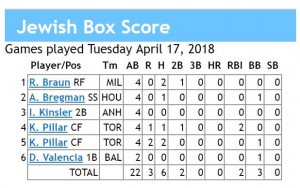 The Toronto Blue Jays (11-5, second in AL East) swept their doubleheader against the visiting Kansas City Royals, 11-3 and 5-4, the latter game taking 10 innings. In the opener — with both teams wearing uniform number '42' since they were rained out of the festivities on Jackie Robinson Day on the 15th — Kevin Pillar had a two-RBI double as the Jays put up six runs in the sixth, his only hit in four at-bats. He also scored a run. In the nightcap, Pillar was 2-for-4 with a walk and two runs scored, including the game-winner (see video).
Danny Valencia, playing DH, struck out twice and walked in three plate appearances as the Baltimore Orioles (5-12, fourth in AL East) lost 4-2 to the host Detroit Tigers. Richard Bleier did not pitch for the O's in this one.
Ryan Braun singled and doubled in four at-bats as the Milwaukee Brewers (9-9, third in NL Central) shut out the visiting Cincinnati Reds, 2-0.
Alex Bregman was 1-for-4 with a walk, batting fifth instead of his usual second spot in the lineup, in the Houston Astros' 4-1 win over the host Miami Marlins. The Astros are 11-7, second in the AL West.
Ian Kinsler was 0-for-4 as the LA Angels (13-4, first in AL West) were trounced by the host Boston Red Sox, 10-1. According to this article from MLB.com, Kinsler has a shot at joining the 300 HR/300 stolen base club. But being closer to age 36 than 35 and with 235 home runs and 227 stolen bases right now, and given his recent health issues, that strikes me as a very outside shot. Braun — just about a year younger than Kinsler — has 305 dingers but a relatively low 195 stolen bases.
Joc Pederson entered the game for the LA Dodgers (7-9, third in NL West) against the host San Diego Padres as a defensive replacement in the seventh and did not come to bat, coming out for a pinch-hitter in the 10th inning of what would end up a 12-inning, 7-3 win for the visitors.
Gabe Kapler's Philadelphia Phillies improved to 10-6, good for second in the NL East, following their 5-1 win over the host Atlanta Braves in 10 innings. Seems like he's learning after some early-season issues.
Ron Kaplan (@RonKaplanNJ) hosts Kaplan's Korner, a blog about Jews and sports. He is the author of three books, including The Jewish Olympics: The History of the Maccabiah Games and Hank Greenberg in 1938: Hatred and Home Runs in the Shadow of War.
# # #
Get your Jewish Baseball News updates via e-mail