By Ron Kaplan, contributor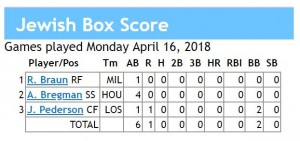 Alex Bregman was 0-for-4 as the Houston Astros (10-7) dropped a tough one to the host Seattle Mariners, 2-1.
Joc Pederson walked as a pinch-hitter in the fifth inning for the LA Dodgers (6-9) in their 10-4 win over the host San Diego Padres. He remained in the game and went 0-for-1 with a walk and a run scored. Joc may be batting just .148, but he has five walks and only two strikeouts in 27 at-bats.
Speaking of Joc, it looks like we just missed seeing him on the mound in LA's 15-inning loss to the Arizona Diamondbacks on April 2. In years past, Ike Davis took a turn on the hill. Sam Fuld, too. Both have an ERA of 0.00. I always get a kick out of stuff like that.
Ryan Braun had a pinch-hit groundout in the ninth inning as the Milwaukee Brewers (8-9) lost to the visiting Cincinnati Reds, 10-4. Meanwhile, if you want to see a wicked impersonation of Braun's batting-deck routine, check out this video of Brewers catcher Jeff Bandy.
The Patriots' Day game between the Baltimore Orioles (Richard Bleier, Danny Valencia) and Boston Red Sox was cancelled due to weather, as was the one between the St. Louis Cardinals (Ryan Sherriff, DL) and host Chicago Cubs, and the one between the host Toronto Blue Jays (Kevin Pillar) and Kansas City Royals. Ian Kinsler and the LA Angels had the day off.
Gabe Kapler's Philadelphia Phillies (9-6) lost to the host Atlanta Braves, 2-1.
Ron Kaplan (@RonKaplanNJ) hosts Kaplan's Korner, a blog about Jews and sports. He is the author of three books, including The Jewish Olympics: The History of the Maccabiah Games and Hank Greenberg in 1938: Hatred and Home Runs in the Shadow of War.
# # #
Get your Jewish Baseball News updates via e-mail